How Commitment and Visualization Cement Your Success Goals

Here's something you may not know about Bootcamp …
Each year, AWAI showcases some of the members who have achieved their writing dreams and met significant goals in the past year. These writers get a chance to tell their stories from the stage.
Called the Success Panel, it's really a highlight of Bootcamp. Listening to these writers speak is always a moving experience – especially because everybody on the stage once sat in the audience, new and wide-eyed about the idea of building their own freelance-writing business.
So, listening to how far they've come and how they pulled it off is something every writer gets value from.
When you're there live, you feel that emotion in a different way. And that's why every year after the Success Panel wraps up and the cameras stop rolling, somebody … or a handful of somebodies … approach Katie Yeakle and Rebecca Matter.
They point to the table where the Success Panel was seated, look Katie and Rebecca in the eyes, and say, "I'm going to be up there on that stage next year."
And, you know what? It always seems to come true.
At the 2013 Bootcamp, copywriter Julie Hassett walked up to Katie Yeakle and told her she planned to be sitting on the panel the next year.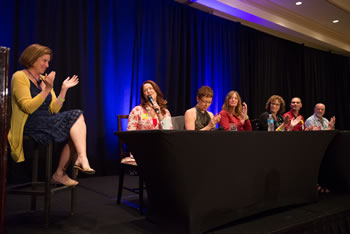 Julie Hassett speaks on the 2014 Bootcamp Success Panel.
Sure enough, the 2014 Bootcamp rolled around, and Julie was on the Panel. Better yet, while sitting on that Success Panel, she shared the incredible news that just two days before, she'd received a royalty check … and it pushed her over the edge into her first six figures as a copywriter.
If that kind of rapid-action career success is something you're interested in, I encourage you to voice your own commitment, right here, right now.
So, Step 3 in your "Make-It-Happen" plan is to visualize yourself at Bootcamp, your courage building thanks to all the energy and inspiration. And then, picture yourself approaching Katie or Rebecca to tell them when you plan to be on the Success Panel.
Better yet, visualize yourself up there on that Success Panel!
Making a public commitment is a proven way to cement your goals … share it with me here!
When we reconnect tomorrow, I want to tell you about the shocking thing one fantastically successful copywriter did at this past Bootcamp … I could hardly believe it myself.

The Professional Writers' Alliance
At last, a professional organization that caters to the needs of direct-response industry writers. Find out how membership can change the course of your career. Learn More »

Published: December 31, 2014