How to Connect with Copywriting Greats

There's a lot that happens at Bootcamp that isn't talked about …
Yet, it's stuff that turns out to be key in getting a successful writing career launched.
Yesterday, I wrote about the importance of genuine connection with other writers from this world. That one goes without saying.
But here's something you may not have considered … it's also important to connect with all those larger-than-life, legendary, "hallowed names" of copywriting who come to Bootcamp every year to speak.
Because really, simply sitting in the audience and listing to their presentations isn't enough.
You should also seek them out. Make it a point to talk to them. Fortunately, it's surprisingly easy to wind up having impromptu conversations that strike up during breaks, or over lunch, or during those can't-be-planned elevator rides that put you two feet away from some of the biggest names in the copywriting business.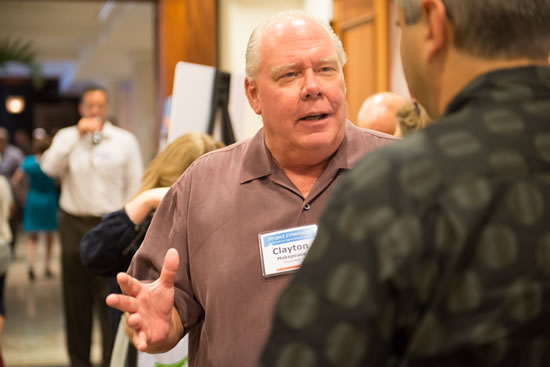 Million-dollar copywriter Clayton Makepeace chats with an AWAI member at the 2014 Bootcamp.
That's happened to me at every Bootcamp – spontaneous meetings with some of these larger-than-life writers.
One year, it was Paul Hollingshead telling me (corny) jokes at the bar. Another year, it was bumping into Mark Everett Johnson during a dinner out in Delray Beach, and having him join our table for dessert.
And then, this past year, another writer and I had a fortuitous early-morning elevator ride with Clayton Makepeace and his wife, Wendy. We joked about jet lag.
The next day, when I passed Clayton and Wendy in the hallway, I stopped to chat again. The other writer was there, too. Jet lag came up again … which led to a conversation about lifestyle writing … which led to a project opportunity for that other writer.
A similar thing happened to email-writing coach Jay White during a conference he attended early in his career. He sat down in the lobby and struck up a conversation with the other guy sitting there … who just happened to be highly respected and mega-successful Internet marketer, Alex Mandossian.
Jay walked away with an assignment to write email copy for him, and that project launched his career.
Obviously, your chances of landing projects increase dramatically when you show up at an event where experts flock and hiring companies line up to meet you. That's why Job Fair at Bootcamp is so life-changing.
But, you know what's even more valuable? It's the fact that copywriting legends are really just normal people.
Sure, there's a lot to admire about what they've accomplished. But, getting to connect with them as peers? That's priceless.
Once you hear a guy whom you thought was untouchable in awesomeness talk about the hassles of weeds cropping up on his lawn … it's like the bubble of mystique pops.
You realize these are normal people, who work hard to be talented at what they do, and who can teach you a whole lot.
But it takes actual, physical, face-to-face connections outside of formal settings to really get the benefit of this.
So, Step 2 in your "Make-It-Happen" Bootcamp plan is to visualize yourself having coffee with one of these greats. Understand that they're a lot like you … and that, if you're serious about making your writing career happen, you can be a lot like them.
Which copywriting superstar would you most like to have coffee with and get to know? I'd love to know – tell me here.
Tomorrow, I'm going to tell you about the eerily effective way certain copywriters have launched their careers into six-figure territory. It has to do with something they do after an annual Bootcamp tradition.

The Professional Writers' Alliance
At last, a professional organization that caters to the needs of direct-response industry writers. Find out how membership can change the course of your career. Learn More »

Published: December 30, 2014