How to Earn More As a Writer and Quickly Live the Writer's Life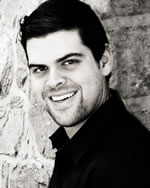 This week is all about helping you become the Total Package for your clients.
What does that mean?
It means you become a business-builder instead of just a writer. It means you learn the ins and outs of marketing … and you familiarize yourself with things like lead-generation campaigns, online traffic generation, direct-mail campaigns, and more.
This way, when you approach a new client, they don't see you as just another vendor. You become a valuable consultant – who happens to have writing as one of his or her tools to help them solve whatever problems they're having and get the job done.
The rewards when you do this are great. Instead of charging a few hundred dollars for a writing assignment, you can now charge tens of thousands (with royalties added on) to create better results in your client's business.
I've seen this work firsthand, working alongside legendary copywriter Clayton Makepeace.
He's the Total Package in every sense of the word. I've seen him come up with new product ideas and the marketing strategies to promote them (and then write all the copy for it) in record time. One of those campaigns brought in $1.5 million in sales in a matter of hours.
The personal income this has created for him is astonishing. He's made seven figures each year, for almost two decades now … and has made up to $1.4 million in a single month!
That's why I'd like to do my best to pass on the lessons I've learned from him so far … and help you on your path to earning more, and living your version of the writer's life faster than you ever thought possible.
Let's get started!
First and foremost, Clayton places a HUGE importance on getting a solid copywriting foundation. And the good news is, this is something you're already doing!
Make it a point to master your craft as quickly as possible. The fastest way to do that is to get GOOD at writing the elements that make the most impact when writing persuasively.
Specifically:
Whew! We've covered a lot of ground today. Please read each one of those articles by Clayton. They alone can help put you on the path to earning much more as a copywriter.
And when you do, let me know what you think is the area you need to improve the most by posting a comment here.
Stay tuned for tomorrow. I'll cover the one thing that could make you instantly up to 10x more valuable to your clients (and, as a result, allow you to charge 10x the fees!) …

The Professional Writers' Alliance
At last, a professional organization that caters to the needs of direct-response industry writers. Find out how membership can change the course of your career. Learn More »

Published: December 8, 2014