Let Your True Voice Ring Out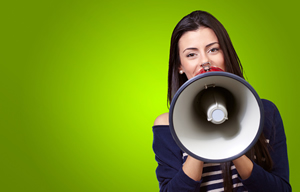 Write like you talk.
Easier said than done.
There's something about writing that flips a switch in our brains that makes us get all formal … even when we want to do the opposite. Writing like you talk challenges all beginning copywriters.
So, if you're having trouble doing it, look around. You have lots of company.
But, there's good news. We learned to write formally, thanks to our teachers. (I mean that sincerely.) You can also learn to write like you talk … and it'll take much less time.
Here are 5 strategies that work for me, and I know they'll work for you …
You don't have to say "do not" …
When you're chatting with friends, do you say, "I will meet you at the store"? Only if you're emphasizing that you WILL meet them there.
We naturally say, "I'll meet you …" Or we say, "I won't meet you …" instead of "I will not meet you …"
Contractions like "don't … I'll … could've … it's" roll off our tongues easily. They make what we say less formal. We're all used to hearing them. And, when we hear someone not using contractions, the speech sounds stilted.
Same with our writing. These relaxed forms of speaking make your writing more conversational.
But, I almost never use contractions when I write. Blame the Sisters of the Blessed Virgin Mary. So, when I'm finished writing, I go back and change to contractions where appropriate.
Dare to be "incorrect" …
You'll notice I've used the word "like" several times in sentences, like "Contractions like 'don't' …" If I were writing formally, I'd say "such as" or "as" in these places. Using "like" in this way in formal writing is incorrect.
But, in copywriting, this type of incorrectness makes your writing more natural and conversational.
Give yourself permission to make these deliberate errors. Use "who" even when "whom" is correct. If you use "whom," it'll sound too formal. (Even if you and Sister Mary Magdalene know it's wrong.)
When it comes to untangling the "lie/lay" confusion, don't fret. Write whatever feels comfortable to you. When you edit, if it reads well and doesn't stick out as horribly wrong, keep it in.
The rule of thumb here is to use the familiar … even if it violates the rules of English you were taught.
Unless …
… unless using the more familiar words and forms will offend someone.
I don't recommend using "ain't," because it's going to offend some purists. And, be careful of words that might offend someone's religious beliefs, like "damn" or "hell" in conversational usage. You can use them, but only if you're sure they won't offend your reader.
And, NEVER use any of the common "four-letter words," regardless of how many letters they contain.
Small is better …
I've hit on this strategy several times in The Golden Thread, and my COS Blog. I do so because it's crucial in keeping a conversational tone.
When a word of two syllables means the same thing as a word of three or more syllables, use it. When a word of one syllable can replace a word of two syllables, use the shorter word.
We don't usually say "automobile" in our conversations. We say "car." We don't usually say "precipice." We say "cliff." Opt for the shorter word if it'll do as well.
And, opt for the more common word, regardless of length. My first sentence of this article was originally, "Write like you speak." But I changed "speak" to "talk," because "speak" sounds just a little too formal.
Not every sentence needs a verb …
When I was in elementary school, if our writing had a fragment, the piece got an "F." No kidding!
Fragment sentences are sentences without a verb, either expressed or implied. But, we don't talk that way. Fragment sentences pepper our conversations … and copywriting.
Use fragments when they make your copy sound more natural. But, when you do use them, make sure they carry a complete thought. My saying, "No kidding" two paragraphs above did carry a complete thought.
Just like riding a bike, playing the piano or speaking a foreign language …
My final strategy is the most crucial.
If you play a musical instrument, how did you get better? Practice.
Any skill improves with practice. The more you write informally, the easier it gets. As a copywriter, you must look at everything you write as practice.
Jotting off a quick email? Don't click send until you look at it carefully. Is it stiff and formal? Or, does it sound like you?
Do this with all your informal writing.
And, you know what? Pretty soon you won't be making as many changes in your edits. The informal, conversational part of your brain takes over naturally.
I'd love to hear your thoughts on this subject. Please leave your comments in the comment section. I read them all.

The Professional Writers' Alliance
At last, a professional organization that caters to the needs of direct-response industry writers. Find out how membership can change the course of your career. Learn More »

Published: December 1, 2014