Live: The Barefoot Writer December Issue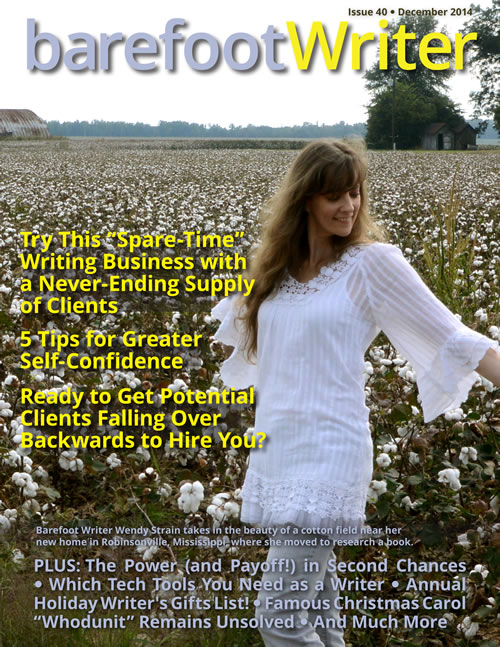 When was the last time you dared to ask for something you truly wanted?
I'm not talking about asking for the last piece of pumpkin pie, or to be in charge of the remote for a night.
I'm talking about the more life-changing act of asking for something that separates you from the have's and the have not's. Something that makes you stand out from those who are cramped by their own self-imposed limitations …
… Versus those who go after what they want in life.
Like a profitable career in writing.
Our December issue zeroes in on the power of asking for what you want in your career. You'll learn things like
How one writer asked for a project and got a free penthouse stay at a five-star resort
Which tech tools to invest in for your writing business
Why asking for a second chance may be the smartest career move ever
The many ways a credible web presence answers questions prospective clients have about you
Where to find the best holiday gifts for writers
And much more!
This month, give yourself the permission to ask for what you want in your writing career. And don't miss our Featured Interview with six-figure copywriter and proven marketing expert, Kim Krause Schwalm. She puts the proof in the power of asking for what you want.
Click here now to read your December issue of Barefoot Writer.
Not a subscriber yet? Click here to learn more about becoming a member of The Barefoot Writer and start living the lifestyle you want by writing.

The Professional Writers' Alliance
At last, a professional organization that caters to the needs of direct-response industry writers. Find out how membership can change the course of your career. Learn More »

Published: December 5, 2014