Make Other People's Lives Better
with Your Writing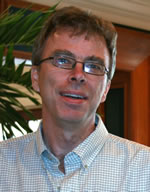 John Wood
John Wood here, taking over the reins of The Writer's Life.
The phrase "Money-Making Website" by its very nature makes you think of what many consider to be its most important benefit: creating a residual "money while you sleep" income stream. (If you're not familiar with exactly what a "Money-Making Website" is, you can find information here.)
While that is an important benefit, it's certainly not the only one.
This week we'll take a look at some other potential benefits, by putting the spotlight on five AWAI members. These AWAIers have, in their spare time, combined their writing skills with a topic they're passionate about to create something very special. You'll definitely want to consider these benefits before picking a website theme of your own.
Let's get started …
"Go away, you're healthy."
That's what Becky Rider's doctor continually said to her, even though she knew there was something wrong with her and had been for the greater part of her life. She'd get headaches and migraines and generally feel pretty awful. But no one could figure out why.
Suspecting it was related to what she was eating, she tried to pinpoint which food or foods were causing the problem by slowly eliminating things from her diet. She soon zeroed in on the culprits: wheat, barley, rye and oats.
Turns out the gluten in grains was making her ill, due to her having something that today is commonly referred to as gluten sensitivity.
So, Becky learned all she could about how to eat a healthy and safe diet without using grain (and without relying on processed foods, which generally contain grain in some form).
Becky felt so passionately about her discovery that, in 2008, she decided to create a website to showcase what she'd learned and help other people who may have gluten sensitivity.
"There are people out there who need this information. People would say to me, 'If I give up on grains, there's nothing I can eat.' I show them that there's a huge variety of healthy and delicious food they can eat. It's very rewarding and has really given me a sense of purpose," Becky says.
Money-Making Website Benefit#1: It's a way for you to help improve the lives of others by sharing your knowledge on a subject you feel passionately about.
Becky's Living Gluten Free website has also resulted in people contacting her about speaking on gluten sensitivity in her local area – something she loves doing.
In addition, she's in the process of writing a book about the history and evolution of food, which she hopes to have out sometime next year. She's also writing a gluten-free cookbook with her daughter.
Do you possess information that could help make people's lives better? It could be your favorite hobby or a field you've worked in all your life. Make a list of the top five topics that come to mind and keep it close by, as we'll be adding to it throughout the week. Share your ideas by clicking here.
Stay tuned for tomorrow, where I'll highlight an AWAI member who found a way to gain instant credibility.

The Professional Writers' Alliance
At last, a professional organization that caters to the needs of direct-response industry writers. Find out how membership can change the course of your career. Learn More »

Published: December 1, 2014