The #1 Rule for Creating a Powerful Performance As a Writer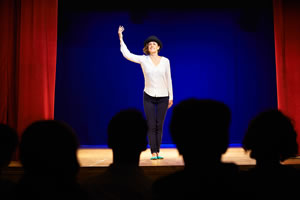 By now, you've re-watched your favorite compelling scene from film, television, or theater. And you've gotten to know the "setting" for your niche.
Now, it's time to address the most important rule for giving a memorable, attention-grabbing performance – knowing your audience.
I can't tell you how many times I've thought I delivered a great scene in an acting class only to have the instructor ask, right off the bat, "Who are you talking to?" This question forces me to think of someone clearly, and put him or her in the forefront of my mind for the next run-through.
And, let me tell you – it always makes my performance stronger.
Now, this may seem silly. How can you not know who you're talking to? They're right there in front of you!
You have to take that knowledge a few steps deeper. You must know who your scene partner is, where he comes from, and your relationship to him. And, of course, how you feel about him and how you think he feels about you.
Think about the way Sherlock speaks with Watson. There's a playful camaraderie, slight competitiveness, and overall affection for each other. You believe they've known each other for years and have been through it all.
However, you don't see that same familiarity when he speaks with a client or a murder suspect. Sherlock talks to each person differently based on who the person is, the specific relationship, and what he wants to achieve.
This is equally important to keep in mind when writing copy.
Think about it, if you were selling a fitness program, you would pitch it differently to a 21-year-old male than you would to a 60-year-old female. They're in different places in life, have completely different motivations, and express themselves in different ways.
This is why it's deeply important to dig deep into your prospect's psyche and find out his or her dreams and aspirations, as well as fears and frustrations, before you write even a single word. And take note of how he or she talks about them.
Today's action step is doing just that. A great way to find out about your prospects is to find communities where they hang out.
For example, let's say you write for the health and wellness industry – specifically about vitamins. You would search for either social media groups or forums where people are having a conversation about those, and you would read what they're talking about. You could also peruse the comments section on popular blog posts, videos, or podcasts on the subject.
If you're feeling particularly adventurous, you can chime in, as well!
There you'll get unfiltered intelligence on the subject from people who are in that demographic. You'll not only get a glimpse into their feelings on the topic, but you'll also see how they word them. This will help you determine the phrasing of your copy.
Obviously, this can become very personal, especially if dealing with sensitive subject matter. However, if you come across a surprising discovery about your market, please share it in the comments section below!
Tomorrow, we have to dig deep into another very important part of any award-winning performance. One that involves a rather personal journey for the actor.

The Professional Writers' Alliance
At last, a professional organization that caters to the needs of direct-response industry writers. Find out how membership can change the course of your career. Learn More »

Published: December 17, 2014