Three Lessons for Copywriters from Santa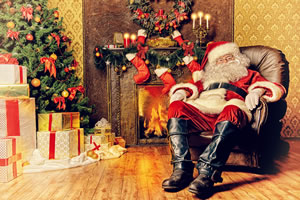 Merry Christmas!
Whether your morning has been a whirlwind of wrapping paper or a quieter celebration, I hope everyone is enjoying their day making holiday memories with family and friends.
I love the holiday season. Everyone is a little kinder. There is anticipation in the air. And traditions abound.
One of my favorite traditions (some may call it a guilty pleasure) is watching Christmas specials. They remind me of my childhood, and of special moments shared with my son when he was younger.
One of the best Christmas specials is Santa Claus is Comin' to Town.
It's a classic. I love it for a number of reasons …
It's heartwarming.
There's a love story.
There's magic.
But what does any of this have to do with you as a copywriter?
Beyond being a feel-good holiday show, there are important lessons and morals in Santa Claus is Comin' to Town that apply if you are seeking the writer's life but are overwhelmed about how to get there.
Now, if you're not familiar with the story, here's a quick synopsis. Kris was raised by the Kringles, a family of toy makers. When Kris grows up, he offers to deliver the toys to the children of Sombertown. But to do so, he has to cross the mountains of the Whispering Winds and avoid the Winter Warlock. He makes it to Sombertown, but toys have been outlawed by the evil Burgermeister Meisterburger, so they are taken away. Kris continues to deliver toys, which turns him into an outlaw, so he and his family move to the North Pole. Kris, who has become known as Santa Claus, can no longer keep up with all the toy requests, so he makes the decision to go out once a year on Christmas Eve.
So, how does this apply to you? Let me explain …
Lesson #1: You Gotta Believe
Kris believes so strongly that the Kringles' toys need to be played with by children that he risks his freedom to make sure it happens.
If you want to achieve the writer's life, you have to believe in two things.
First, you need to believe in the opportunity that copywriting offers. Forrester Research predicts the money spent on online marketing will reach $77 billion by 2016. That writing has to be done by someone. Why not you? Many AWAI members have achieved their goals. For some inspiration, you can read Steve Maurer's story here. You can do this too.
Which leads to the second, and more important, thing you need to believe in … yourself.
Learn the skills you need, but do not put off launching your freelance business until you feel completely ready. You will never feel completely ready. There will be moments of doubt. That's when you really need to believe in yourself and what you are doing.
To help you believe in yourself, create a victory log. In a notebook, jot down any wins you have (even the small ones) that move you closer to your goals. When that inner voice says you can't do this, read your victory log and say, "Yes, I can."
A good way to motivate yourself is to know why you want this. Make a list of the reasons you want to achieve success as a freelance writer and post it in your office. Be specific. Don't just say for the freedom. Instead, add why the freedom is important to you. For example, I want to be a highly-paid, successful freelance writer so I can provide for my family and have the freedom to attend my son's sporting events. When doubt creeps in, I always visit my "why."
Kris braves the forest, Winter Warlock, and the toy-confiscating Burgermeister Meisterburger in his quest to deliver toys. He believes in his mission and why it is important.
Know why you want the writer's life and then believe you have what it takes. Belief will guide you through the forest.
Now, let's look at the next lesson …
Lesson #2: Don't Give Up … Keep Taking Action
Even though the toys Kris delivers keep getting taken away by the Burgermeister Meisterburger, he continues to find new ways to get them to the children. If the doors hadn't been locked at all of the children's houses, we wouldn't hang stockings by the fireplace today.
Just because one thing you try doesn't work, doesn't mean you stop trying. The next idea may be the solution. Last week, I was struggling with the structure of a home page. I went through four major drafts and even more minor revisions before I finally felt it was right.
Whether you are looking for your niche, learning to write copy, or trying to find clients … keep working at it. The answers will come. And you never know from where or whom. The more action you take, the more help you will find.
In the beginning of Kris' journey I'm sure he didn't expect to get help from the Winter Warlock, flying reindeer, or the pretty Jessica.
Lesson #3: Put One Foot in Front of the Other
This lesson helps answer the question, "How do I do this?"
One of the best scenes from Santa Claus is Comin' to Town is when Kris and Winter Warlock sing "Put One Foot in Front of the Other."
Winter wants to change from bad to good. But he's not sure how to do it or even if he can. Kris assures him he can if he simply puts one foot in front of the other.
The song lyrics offer a few insights …
"Put one foot in front of the other
And soon you'll be walking 'cross the floor.
You put one foot in front of the other
And soon you'll be walking out the door."
Take steps every day (even if they're small) to reach your goal of becoming a copywriter. You won't have all the answers and that's okay. But you can always figure out a small step to help you move forward. If you're just starting out, purchase your domain name so you can start your website. Create or update your LinkedIn profile so people know you are a copywriter. Send an email to connect with someone at a company you'd like to work with. Just keep putting one foot in front of the other and you will get there.
"You never will get where you're going
If ya never get up on your feet.
Come on, there's a good tail wind blowin'
A fast walking man is hard to beat."
Taking action every day towards your goal will help you build momentum. Continuous effort adds up and that momentum will propel you to success.
"If you want to change your direction,
If your time of life is at hand,
Well don't be the rule, be the exception
A good way to start is to stand."
If you want to make the leap to a freelance writing career, go for it. Often people talk about what they want to do, but don't take the steps necessary to reach their goals. Be the exception. Make the decision. Choose your path, create a plan, and take action.
Commit to your journey to the writer's life … believe and put one foot in front of the other. That's when the magic happens.
Enjoy the holidays and get ready to make 2015 the year you step into the writer's life.
And if you need a little inspiration (or holiday fun), you can watch Kris and Winter Warlock sing "Put One Foot in Front of the Other."
This article, Three Lessons for Copywriters from Santa, was originally published by B2B Writing Success.

The Professional Writers' Alliance
At last, a professional organization that caters to the needs of direct-response industry writers. Find out how membership can change the course of your career. Learn More »

Published: December 25, 2014