Two Major New Projects … and an Unexpected Bonus for this AWAI Member
It's been a breakthrough couple of months for AWAI member Wendy Sloneker.
"My most recent big win is with a succession-planning service for small businesses. I completed their web copy, and the site went live two to three weeks ago. I'll be building two paid, annual-subscription newsletters from the ground up. I'll be writing the sales copy, advertisements for trade journals, summaries and profiles for social media platforms, emails, and articles for each title. It's paid, plus royalties. My first project like that," explains Wendy, who also recently received a $1,000 bonus for a previous project.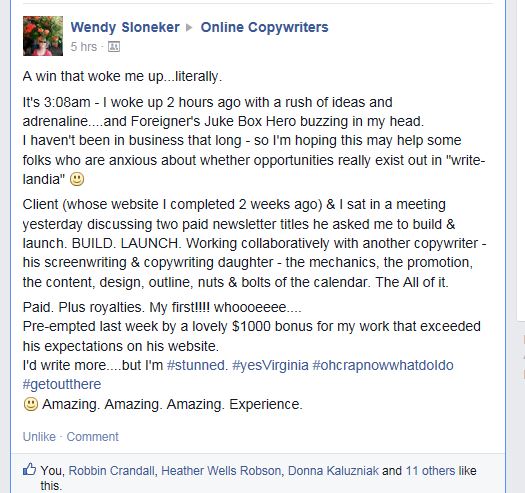 Wendy, a full-time freelancer writing web copy and content since 2012, has also written for a variety of other niches, like pets, alternative health, and crafts. She also specializes in helping small businesses market themselves. With those clients, she has managed social media and produced video content.
"I've landed 85% of my clients through word-of-mouth referrals from a local networking group, BNI (Business Networking International)," says Wendy. "I'm still growing my financial part of the business. But I can share that for each of the last two years, I've doubled my business each year. I'm okay with doubling my business year over year for another year or two. I'll be getting to know more local business neighbors for the next three years as a board member on a local chamber of commerce."
Wendy is also building her business by attending events and networking with fellow freelancers regularly. AWAI's Web Copywriting Intensive was a huge influence. Wendy says that every day she still uses the skills she learned at the event and that she keeps in touch with fellow writers she met there.
"We still keep in touch every few weeks via Skype. It makes a big difference to have colleagues in the business who 'get it,'" says Wendy.
And as she lands new projects, she keeps an eye on the future … and makes sure to enjoy the ride.
Wendy continues, "My partner works a 6 a.m.-to-3 p.m. gig out of the house, so I have a lot of freedom … and some responsibility to take care of projects around the house, which we bought last year. I'm also spending some good walking time with our dog, Rosie. It's a relaxed, quiet life … I really enjoy it."
Way to go, Wendy! Check back in with us soon.
You can see Wendy Sloneker's freelance website here: www.wendysloneker.com.

The Professional Writers' Alliance
At last, a professional organization that caters to the needs of direct-response industry writers. Find out how membership can change the course of your career. Learn More »

Published: December 12, 2014