What Writers Can Learn From the Grinch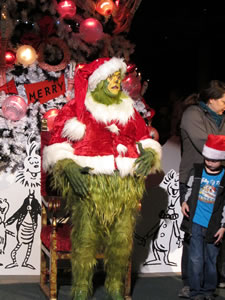 Jen Adams here. Yesterday, I shared how deadlines can be wonderful gifts for writers … and today, I'd like to show you how a bad attitude can be a good thing – even in the happiest season of all.
After all, some mornings when you look in the mirror, what you see is a big grump. And that's doubly true if you're feeling a bit of holiday stress.
But as writers, everything can be inspiration for our next story. Even a really, really bad mood.
Theodor Geisel … better known as Dr. Seuss … was certainly in a sour mood over the holidays in 1956.
His wife was very sick. He wasn't pleased to be turning 53. He was feeling "stuck" with his creative work, too.
At this point in his life, you see, he wasn't famous …
The many children's books he would become known for hadn't been written yet. He only had a pre-publication draft of The Cat in the Hat under his belt. And, crazy as it seems to us now, he was having a hard time finding a publisher who was interested in his strange, rhyming tale about a mischievous talking cat.
So, instead of a happy new year on the way, he imagined he was facing many more months of frustration trying to prove that his story deserved attention. It was far from an ideal situation.
And, looking in the mirror on the morning of December 26th, what he saw was none other than the big, grumpy, Grinch staring back at him.
Quite the recipe for a day of pouting, moping, and wallowing in self-pity!
But, as writers, we have the potential to make something out of even our most personally pathetic moments.
Geisel was definitely an inventive writer. His taglines and illustrations for Standard Oil (one of his biggest copywriting clients) were industry leaders. And, throughout WWII, the U.S. government had reached out to him repeatedly for help with their wartime messaging.
So, he decided to embrace his Grinchy countenance as inspiration. Picking up his pen, he poured his frustrations into a new book featuring this unhappy and unsatisfied side of himself.
It turned into quite a project. While the first part was easy to write, the ending proved tricky. He worked on it for more than three months to get it right.
By the time he finished, he was in a much better mood. And his personal transformation was mirrored in the pages – giving his soon-to-be famous Grinch a happy ending after all.
The year he thought would be so awful? Both The Cat in the Hat and How the Grinch Stole Christmas hit the presses … and both turned into major hits. None of which would have happened if Geisel had used his bad mood for anything other than inspiration.
What about you? Where in your life have you been able to take a less-than-perfect mood or personal situation and turn it around? Share your story in the comments so we can all be inspired to rise above life's curveballs.
And tomorrow, I'll share how having faith in your most unusual and "out there" ideas can lead to success …

The Professional Writers' Alliance
At last, a professional organization that caters to the needs of direct-response industry writers. Find out how membership can change the course of your career. Learn More »

Published: December 23, 2014