5 Truths to Make Web Writing Easier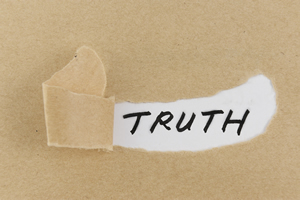 As we welcome the New Year, I'm doing what most people are: considering my goals for the year …
While I do this, I'm also looking back — what did I learn this past year? How can those things help me move forward?
I'm also realizing a lot of what I learned would be very useful for new web writers — or even web writers who haven't quite made the leap yet …
That's why, today, I'd like to share those things with you …
Some are myths I personally believed when just starting out … some are unfounded worries I made up … some are simply rumors I had read online. Whatever their source, my beliefs held me back from making progress as quickly as possible.
I'd hate for that to happen to you!
In fact, I wish I could just plug in and program these things directly into your web-writing brain!
It might sound silly, but if I had known (and believed) these truths starting out, I'd be much further ahead. Perhaps I'd be writing this article from a hammock … on a deck … overlooking a beautiful lake with mountains in the background. (I'll get there!)
In the meantime, I hope reading these words will help you program your brain and leap ahead to whatever you desire …
Here are 5 things I know to be true after another year of web writing:
1. Goals are important.
Sure, you've heard this one over and over again. But, I think it deserves repeating — especially at the beginning of a new year.
It's not enough to have a vague idea of where you want to end up. You have to know exactly where you want to end up so you can make a plan to get there.
The first few years of my "career," I bobbled about without goals. Big mistake!
My intentions were to eventually work for myself, but I didn't have anything specific in mind. I even broke the biggest goal-setting rule: I didn't write my goals down.
But — like we should from all mistakes — I learned something.
Last year, I set goals, wrote them down, focused on them, and achieved them! It feels good to know I've come so far from where I started.
Have you written your goals down? If not, I recommend doing that as soon as possible.
Remember, goals are not the same as dreams or even New Year's resolutions.
Goals have "requirements" you may be familiar with … they should be specific, actionable, realistic, and time-oriented.
Here's an example:
A vague statement like, "This year, I'm going to set up my web-writing business," or "This year, I'll be more serious about my writing," isn't a goal.
A goal should be specific, actionable, realistic, and time-oriented. Like this:
By the end of this year (time-oriented), I will be a web writer (actionable) with a recurring income stream of at least $5,000 per month (specific).
Think that's unrealistic?
I did as a newbie … and that leads me to my next point …
2. You really can make a lot of money as a web writer.
When I first started out, I took low-paying jobs. I think we've all been there.
I remember thinking I'd never be able to write enough in a day to earn even half my goal. It simply wasn't possible with the rates I thought were reasonable at the time.
However, as I wrote, things changed … I began to see the value my clients were getting from my web copy and I slowly gained the confidence to raise my rates.
Turns out, I could have charged higher rates all along, I just didn't believe the "average rates" were true. Now I see they were …
For instance, here are just a few samples of what you could do — even if you're a beginner, how long it would take, and the rates you could expect to charge:
- You could write website copy — for example — for a short subscription page. You might spend a day (possibly two). The recommended rate? $450+ per page.
- You could set up Facebook Pages for businesses. Depending on how much you do for them, this should take a few hours each. And, these typically pay $500-$1,500 (if you're a beginner) or up to $2,500 (when you have more experience).
- A beginner-level SEO copywriter can expect to make $50 to $100 per page. If you can write one page per hour, you'll have a nice hourly rate. Of course, with a little experience, you can charge $400+ just for optimizing existing copy!
- Case studies — which are short "before-and-after" stories describing how a company solved a challenge by using a product or service — should take about a day to research and write. The rates range from $1,250-$2,000 for 800 to 1,200 words.
I could go on — there are e-newsletters, autoresponders, other emails, and a lot more. But, the point here is: it's more than possible to make a great income as a web writer!
If you don't believe that — or feel underpaid, it's time to make a plan for raising your rates (and confidence) and attracting higher paying clients …
3. Keep your "why" front and center!
I first heard about my "why" from Joshua Boswell. It's the reason you set goals in the first place. What are you trying to achieve?
Some web writers might say they want to earn extra income, work from home, spend more time with their kids, or get out of the cubicle.
Whatever your reason is, your "why" is what will keep you motivated! In fact, I can confirm that having a clear picture of my "why" kept me going during many, "I don't think I can do this" moments.
So, what is your "why?" And, is it in line with the goal you're trying to achieve?
4. Follow in others' footsteps.
There are a million ways to become successful as a web writer. So many ways, in fact, that you could create your own unique way.
That's what I had in mind when I first started writing. It took me a long time to grasp that I should simply follow the advice of successful web writers.
There's no reason to plan and re-plan a reinvention of the wheel. Once I accepted that — and understood that I didn't have to do everything uniquely — my business really started to take off!
Here's what I recommend:
A. Choose a web writer who has achieved the goal you're after. Ideally it's someone who already writes about how they got where they are and the lessons they learned.
B. Read their stories to see how they achieved their goals. Some writers might even provide you with a step-by-step plan! Here are two:
- 12-Step Roadmap to Success by Mindy McHorse
- Become a Web Writer by Joshua Boswell
You can find other roadmaps to success here.
C. Follow the plan.
That's what I did. I followed Joshua's Boswell's advice, kept taking action, and it worked!
5. This industry is unusually and wonderfully unique.
I remember thinking about "working in the real world" when I was in high school. At the time, my perception may have been skewed due to movies and magazines, but I pictured a world where everyone fought to get to the top …
I didn't want the drama or anything else that came with "office politics." (That's one of the big reasons I worked for a small company right out of college and then transitioned to freelancing.)
So, when I became a web writer, I expected the competition to be rough …
Instead, they wanted to help me. That was hard for me to understand and I just kept wondering, "What's in it for them?"
Now I know!
Nearly everyone in this industry realizes how much work is available … it's so much work that we'd never be able to complete it all. Plus, the need for good writers grows every day!
I didn't understand that when I first started out, so I held back and didn't reach out to fellow writers. I even tried to keep my business "under the radar" … I figured if writers didn't know about me, they couldn't compete with me.
Turns out, other writers aren't really "competition." In fact, most successful writers I've come across seem to always be looking for a way to pay it forward.
And, if we work together, our network grows (leading to referrals), our writing will improve, and we'll have connections to the world even when we're alone in our offices writing.
It really is a great industry to be a part of!
So, how about you?
Hopefully these five truths about web writing will help you make progress faster and skip over any hurdles you might come across.
But, did I leave anything out?
Or do you have any web-writing myths holding you back? Maybe I can debunk them. (I'm looking to pay it forward.)
Comment below to join the conversation …
This article, 5 Truths to Make Web Writing Easier, was originally published by Wealthy Web Writer.

The Professional Writers' Alliance
At last, a professional organization that caters to the needs of direct-response industry writers. Find out how membership can change the course of your career. Learn More »

Published: January 21, 2015