Video:


February Great Books Club Selection:
Bird by Bird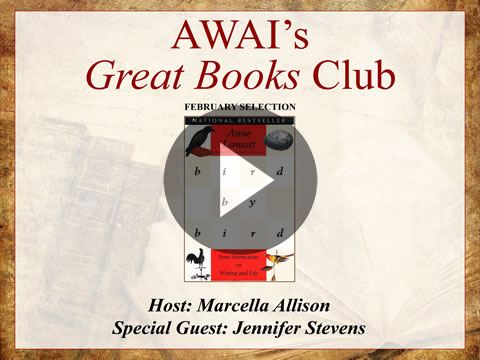 Audio Only (right-click to save) Slides Only
As a copywriter, you know it's important to have a wide range of knowledge. Studying the techniques of master copywriters is, of course, essential … along with learning how to tap into consumer psychology to compel your prospects to read your copy and then take action.
But knowing the ins-and-outs of the craft of writing – how to be productive and come up with ideas consistently, for example – is also key. That's the spirit of the February selection for AWAI's Great Books Club: Bird by Bird by Anne Lamott.
Among many topics, Lamott takes on how to schedule your writing time, explains the best way to create a first draft and notes the importance of being part of a community of fellow writers (that's one of the reasons the Great Books Club was created!). And the unique way Lamott conveys this useful information is part of the fun of reading it.
Jen Stevens, executive editor of International Living, top copywriter and regular speaker at AWAI events, is a big fan. She'll be joining club host Marcella Allison for this webinar. This is what Jen had to say about Bird by Bird:
"It's like magic … it must be easy for them … they clearly know some secret I don't … I think a lot of folks look at successful writers from a distance and assume they each carry in their front right pocket some tiny, engraved, enchanted key that unlocks a world full of words and makes writing instantly easy and fun. Alas, this appears to not be the case. At least, it's not for me. And it's not for author Anne Lamott, either. She's quite clear about that in Bird by Bird, which is a refreshingly frank, self-deprecating and helpful guide to how it is one sits down and actually produces good copy.

"Now, Lamott is not a copywriter. She writes fiction and essays mostly. But what she says about how she works as a writer — where she finds material, the mechanics of being productive — that's all just as useful for us as it is for budding fiction writers. This is, ultimately, a how-to book about writing. But because it's as much a memoir as anything else, I think it's one of the most enjoyable out there. It's chatty. It's catty. It's an infinitely conversational read (there's a lesson in there for us copywriters!). And it's not in the least bit pedantic. You get the sense that Lamott's life is as messy as yours … and she manages to get words on paper. If she can do it, surely you can, too."
The AWAI Great Books Club explores the books you should be reading to advance your freelance career. Whether it's a classic self-development tome, an in-depth look at marketing strategies or a guide to clear writing for any niche … you get it all in the Club.

The Professional Writers' Alliance
At last, a professional organization that caters to the needs of direct-response industry writers. Find out how membership can change the course of your career. Learn More »

Published: January 16, 2015