Build Your Own Platform … If You Build It, They WILL Come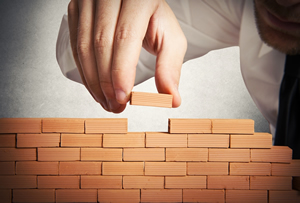 When my son was three, he stood up on the coffee table with his arms outspread and announced, "Ladies and gentlemen, presenting Joshua Robert Sands!"
At first my wife and I were shocked, but then we broke into laughter. Sometime later, I realized what an important lesson it was for me as a speaker, writer and business owner.
Bob Sands here. Thanks for coming back to spend day three of this week's The Writer's Life with me. This week we've been looking at what it takes to "make the leap." So far, we've looked at the importance of both preparation and goal-setting. Today is all about platform.
When my son did that the first time, we thought it was hysterical. That only fueled him to do it every day for a while. And, every time he did it, we would clap as if we were his audience. At three, no one was going to make him famous, so he just decided to declare himself so!
There's a lot of truth in that. Are you waiting for someone else to give you a platform for your writing? Unfortunately, you could be waiting a very long time. What's even worse is that waiting for someone else puts them in control of YOUR destiny.
My advice? Don't wait for someone else to build you a platform. Build your own!
So, you might ask, what's a platform? To put it simply, it's the one place potential prospects and clients can come to see if you really can do what you say you can do. A well-built platform also helps to position you as an expert and create a stream of ongoing prospects that come to you.
Why not make 2015 the year of building your own platform? Here's where to start …
First, get going with your website or blog. Is there a difference? That depends on whom you ask. If you don't have a lot of samples, start the blog and make it your initial home page. If you have several samples, start the blog but put up a regular home page. Either way, start the blog. It will increase your search engine rankings and show potential clients you really can write. Don't wait to get it perfect … just get started.
Second, get on social media, but use it the correct way. You can start a Facebook page or group in which people can interact, but make it separate from your personal page. Twitter is even more important to your platform. It's one of the most powerful social media outlets for business. It also helps with teaching you to write tight. Keep your posts to a maximum 120 characters if you want people to retweet, or 140 characters if you don't. But why on earth would you not want others to retweet? When it happens, celebrate it!
Third, position yourself as a copywriting/marketing expert. Speak and/or write as often as you can on your topic or niche. Some even suggest writing an e-book or white papers. Articles posted on blogs and published in industry magazines will get your name out there for free. Sometimes you may get paid even when you're just writing for your own marketing purposes. One time, I received a contract to help write a book because the NYT best-selling author saw an article that I had written.
Do you have a platform? What are your favorite strategies? What has worked for you? Let me know how it's going in the comment section.
Make sure you come back tomorrow as we "pull back the curtain" and see what's really behind the writer's life.

The Professional Writers' Alliance
At last, a professional organization that caters to the needs of direct-response industry writers. Find out how membership can change the course of your career. Learn More »

Published: January 14, 2015