Conquering Goal Buster #1: Incongruent Goals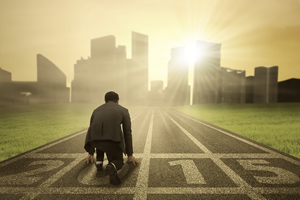 Charlotte Hicks here, back with you for Day 2 of The Writer's Life.
Yesterday, we talked about the importance of identifying one big goal that reflects your true desires for your business and your life. If you weren't able to consolidate your goals into one statement, no worries. As we go through the week, you'll get more focus.
I recently heard UK marketer Chris Cardell talk about the three biggest reasons people fail to achieve success. As I listened, I could see where I'd experienced each one at different stages of my life. He was spot on. If you conquer these three potential goal busters, your path to success is certain.
The first goal buster you want to avoid is having a goal that's incongruent with who you are and what you want.
At first glance, you may ask, "Who would ever set a goal they didn't want to achieve?"
Surprisingly, we probably all have at some point in our lives.
Setting a goal that's incongruent with your deepest desires is like competing for a prize you don't really want to win. You'll subconsciously avoid doing the things necessary to reach your goal.
How can a goal be incongruent?
One way is to set a financial goal you're not comfortable achieving. Have you heard that most lottery winners end up right back where they were before they won just a few years later? They may have the money to be a millionaire but not the mindset of a millionaire.
Can you see yourself living life at the financial level set in your goal? If it feels more like a wish than a vision of your life, you may have an incongruent goal.
Another way a goal can be incongruent is when the actions you must take to accomplish your goal aren't ones you're willing to do. If your goal demands travel and you hate to travel, guess what? You're not going to ever accomplish it.
Wanting the end result isn't enough. You must be willing to execute the actions that will get you to the goal.
Finally, you need to ask if you're willing to live the life required of someone who accomplishes that goal. Think of an actor who wants to be one of the 10 highest paid movie actors. He's willing to do what it takes to be the best. He has a wealth mindset and would be comfortable as a multimillionaire. But … and it's a big but … he hates any loss of privacy. He wants to be rich, famous, and left alone.
That's an incongruent goal. You must be willing to live the life that your goal demands.
Some writers are happy working 60 hours a week or more. Others want to work no more than 20. Either is fine … as long as your goal reflects that.
Today, look again at the goal you identified yesterday. Consider what accomplishing your goal would demand, both as you work toward the goal and once you achieve it. Unless you can embrace it all, your goal may be incongruent. If it is, determine what you need to change so you can fully embrace it.
Have you had goals in the past that were incongruent? Please share your experience in the comments.
Tomorrow, we'll discuss how to conquer goal buster #2. Address this goal buster and you'll never lack motivation!

The Professional Writers' Alliance
At last, a professional organization that caters to the needs of direct-response industry writers. Find out how membership can change the course of your career. Learn More »

Published: January 27, 2015