Conquering Goal Buster #2: Lack of Intent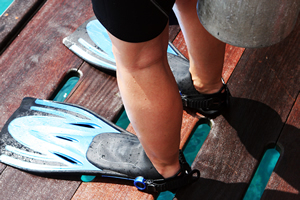 Welcome back! I'm Charlotte Hicks, and I'm with you all this week for The Writer's Life.
So far this week, you've worked on identifying your one big goal and eliminating any points of incongruence. You should be very comfortable with your goal at this point.
But we're not done yet! There's a big gap between "I'd like this to happen" and "I'm committed to making this happen."
Let me give you an example of differing levels of intent to illustrate what I mean.
One of the skills I teach in open-water scuba classes is how to remove and replace your mask underwater. Students first learn the skill in shallow water, so they can stand up if they get water up their nose and panic. We practice it until they're very comfortable with the skill, because it's one they have to demonstrate deeper underwater during their checkout dives.
When the mask replacement goes well on the checkout dive, the student is happy to make a nice, slow ascent to the surface. They want to go to the surface, but there's no urgency. That's good — being calm during the exercise is what we're after.
But when the student gets a bit of water up their nose while they're clearing their mask, they BOLT for the surface! No nice, slow, safe ascent. They want to get there NOW. That's an example of serious intent.
It's my job to stop them from shooting to the surface and avoid a lung expansion injury. So far, I've always succeeded. Knowing their life could be at risk gives me all the intent I need to overcome even the most panicked diver.
Why does intent matter? Isn't it okay to just want something?
Sure, but unless you have a true, burning intent, you won't push through the difficult times and insist on a resolution. If I don't have serious intent when a scuba student panics, I wouldn't be willing to hold onto them when they knock my mask off and claw at my regulator. (Yes, that's happened more than a few times.)
Intent is what drives you to keep pushing toward your goal until you accomplish it.
A salesman who lacks intent says, "Well, I called them and left a message, but they never called me back." In contrast, sales master Zig Ziglar was famous for approaching every prospect thinking, "My money is in his pocket, and I'm not leaving until I get it."
You may have heard the saying that the chicken is involved in breakfast, but the pig is committed. You need to be the pig.
Whatever your goal is, you must be committed to it without reservation.
Evaluate your level of intent to accomplish your big goal on a scale of 1 to 10, where 1 is, "It would be nice if that dropped in my lap," and 10 is, "Nothing will stop me until I make it happen." If you're not at least at an 8, ask yourself what's missing and adjust your goal.
Can you think of a time where you had an absolute determination you would accomplish your goal? Share your experience in the comments!
Tomorrow, we'll look at the final goal buster. It's a big one, especially for those of us with entrepreneurial minds who love bright, shiny objects.

The Professional Writers' Alliance
At last, a professional organization that caters to the needs of direct-response industry writers. Find out how membership can change the course of your career. Learn More »

Published: January 28, 2015