Conquering Goal Buster #3: The Dabbler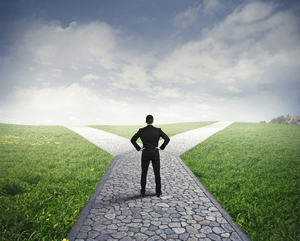 Hi, it's me, Charlotte. Thanks for joining me again.
Whew! We've gone through a lot this week. Hopefully by now you've refined your big goal, made it congruent, and determined that you're fully committed to accomplishing it.
Today, we look at the final potential goal buster — being a dabbler instead of a master. (Full disclosure: more than anything else, this has been my success limiter. When I first heard the concept, I said "Yep, that's me.")
It's a concept George Leonard discusses in his book Mastery: The Keys to Success and Long-Term Fulfillment. He describes the "dabbler" as someone who gets very excited about something and jumps in enthusiastically. She works furiously and quickly has her first big success.
But then the challenge or plateau comes. The dabbler is easily discouraged. She sees another opportunity in a different direction and off she goes! She has another quick success, then loses interest when another success doesn't come right away. It's a never-ending cycle.
But the "master" knows that true, lasting success comes from staying the course. She pushes through the challenges to get to the next success, never wavering from her big goal.
Leonard explains the behavior that identifies the master, " … you have to be willing to spend most of your time on a plateau, to keep practicing even when you seem to be getting nowhere."
How many stories have we heard about successful book authors who were rejected by dozens of publishers before they had success? It's no surprise the copywriters that have had the most success getting clients are the ones who identified one or two methods of prospecting and executed relentlessly.
Think of it like digging a well. Imagine you hire someone to dig a water well. You know you need a 150-foot-deep well to reach the water table. The contractor you hired shows up and digs a one-foot hole. He decides that maybe another place on your land is better and digs a one-foot hole there. Then another, and another. Pretty soon you have a field with 150 one-foot holes. And no water.
My guess is that you wouldn't be very happy. Even though he moved the same amount of dirt as someone who dug one 150-foot hole, the results are drastically different.
When you look at your goal, there are probably multiple ways to achieve it. The temptation is to try and do all of them to increase your chances of success. But in reality, you kill all chance of success with your lack of focus.
Choosing the path of the master means you decide on a consistent course of action. You must have an intense focus on the plan you've identified.
Yes, there will be times you'll have to make adjustments, but your overall direction never changes. If you've decided to be a B2B writer in the aerospace industry, stay committed to that path.
Do you have a clear plan of action to achieve your goal? If not, spend some time today evaluating and deciding on your path.
Do you want to be a direct-response copywriter, a content marketer, a resume writer, a book author, or some other type of writer? Each choice can lead you to success … if you commit to it.
Let me know your chosen path in the comments — and read what your fellow writers have chosen as theirs.
Then tomorrow, we'll talk about the role having fun plays in achieving success.

The Professional Writers' Alliance
At last, a professional organization that caters to the needs of direct-response industry writers. Find out how membership can change the course of your career. Learn More »

Published: January 29, 2015