How Copywriting Gives You the Means to "Pay It Forward"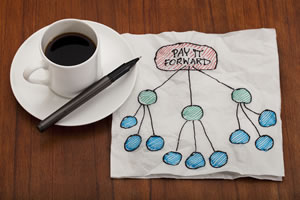 It happened last October during Bootcamp … I got a firsthand glimpse of what life can be like when you make it big as a copywriter.
But it wasn't during one of the presentations … or even at the conference hotel.
It was the third day of Bootcamp, and I ended up at lunch with about 20 other writers. The venue was on the nicer side – the average entrée was $15 and up, not including wine and sides.
We talked and laughed while we ate, sharing stories of writing and of life.
Then, toward the end of the meal, one of the majorly successful copywriters who had dined with us, got up and stealthily picked up the tab for everybody. Everybody.
Can you say … wow?
Because not only did this person casually drop somewhere close to $500 for lunch that day …
But it was done with such generosity. And all the awed "thank you's" from around the table were quickly accepted and quieted.
You know, it's one thing to read about which mega-copywriting star has a beachside vacation home or three motorcycles or a boat.
I wouldn't mind someday claiming those things.
But, to see the manifestation of a hefty income brought to life during a day-to-day activity as simple as lunch …
Well, let's just say I was awed and inspired once again to be part of the well-paid copywriting world.
We hear about financial success through writing all the time, along with the kindness in the industry where other writers have your back. But to see it in action? Astounding.
It was one of those lessons, though, that I only could've experienced at Bootcamp.
Ever since, I've been picturing myself being able to give back so generously …
Can you visualize doing it, too?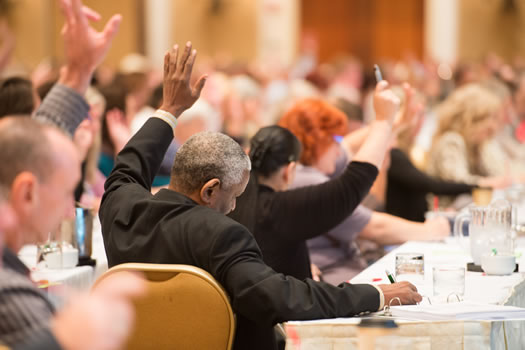 A glimpse of Bootcamp attendees … raise your hand if you'd like to "pay it forward" someday!
That brings me to Step 4 in your "Make-It-Happen" Bootcamp plan. What else can you picture yourself doing with the hefty copywriting income you could earn as a result of coming to Bootcamp? Share it here.
I'll have a tip for you tomorrow about how to get the money-wheels greased. Just think, someday you could be the generous writer at the table, paying it forward.

The Professional Writers' Alliance
At last, a professional organization that caters to the needs of direct-response industry writers. Find out how membership can change the course of your career. Learn More »

Published: January 1, 2015