How to Get More High-Quality Referrals, More Often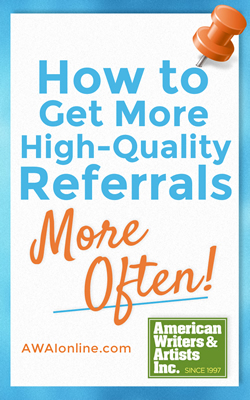 Hello! It's Julie Hassett here for your Thursday edition of The Writer's Life. This week, we've talked about never being the smartest person in the room, being hungry for the world at large, and getting paid to loaf around.
Today, I'm going to delve into a very practical, yet shockingly overlooked technique for getting paid work – both directly and by referral.
It's a technique I learned this past year that helped me reach six figures for the first time …
Lesson #4: Use whatever means necessary to show people you know how to write copy!
Duh, right? Well, not really …
Now that I'm in a position to refer work to others, I've found it surprising how little copywriting I've actually seen from my large network of copywriter contacts.
When I have a job to pass along, I think, "Well, I'd love to refer Jane Smith to this, because I know this is her niche and she's a really nice person. But I have no idea if she can actually write. And it's my reputation on the line here …"
So, I end up referring work to the same people over and over …
Those who have shown me samples or sent me links to their published work … asked me to look over their current project … or have just kept me updated on what they're working on.
Therefore, I encourage you to make sure you demonstrate your writing ability (even if it's just spec work) to the contacts you meet along the way.
How?
There are multiple ways. Here's what I've done:
Start or join a peer review group. You can post in the AWAI Member Forums seeking to join an existing group. Or, start your own by posting a call to other writers on the AWAI Facebook page.

You can even start one up locally and meet up in person. Peer review groups can take many forms – from writing daily exercises and then critiquing them, or sending your paid projects around for feedback.

Whatever your level, this is a perfect way to expand the number of people who can refer work to you and recommend you to others.

Ask someone to give you feedback on a project you're working on. When you develop a trusted network of copywriters, ask them to look at your work now and again.

Don't overwhelm them with request after request, of course. But, know that often copywriters are willing to glance at your work and offer notes or feedback.

I do it, and I've been lucky enough to get this from other copywriters. Those same copywriters have later referred new clients to me.

Have an updated samples page on your website. A "one stop shop" place where others can browse your recent work is essential. If you don't have many samples yet, write a blog and build up your email list.

A blog is a great way to show that you can write. Plus, it demonstrates that you know your business when it comes to copywriting and marketing.

Lastly, here's a letter I sent out to Job Fair marketers I met at Bootcamp in 2013. I met them face-to-face during Job Fair, but I didn't have much work to show them at the time. So, later on, I sent this letter out via email. I got a great response, and I encourage you to use it, too (tailored to your situation, of course).
Just remember, people will be more comfortable offering new work to you or referring you to jobs if they know you can write copy. And, if you've taken any AWAI programs and applied what you learned, then you can!
Just make sure to prove that to new people now and then.
Let me know in the comments what you have done in the past to show your work to others. Also, how do you plan to share your work with referral sources and new clients in the year ahead?
Tomorrow, we're going to talk about the number one thing that grew my career and network faster than I ever thought possible. You'll definitely want to be here to discover what it is!

The Professional Writers' Alliance
At last, a professional organization that caters to the needs of direct-response industry writers. Find out how membership can change the course of your career. Learn More »

Published: January 8, 2015