How to Overcome Fear and Step Into the Writer's Life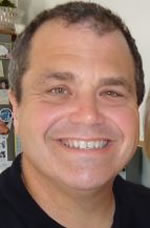 Bob Sands
Felix Baumgartner is an interesting guy. In case you don't know him, he's the man who skydived into the history books on October 14, 2012. He ascended to the edge of the earth's atmosphere and jumped from a capsule at an estimated altitude of 24 miles.
Bob Sands here, taking over this week's The Writer's Life.
Do you feel like it's time for you to finally make the leap into the writer's life? Have you decided, "This will be my year"?
Taking that first step can be a little daunting. Sometimes just the thought of it causes your heart to race. You want to start your business, but fear seems to be holding you back.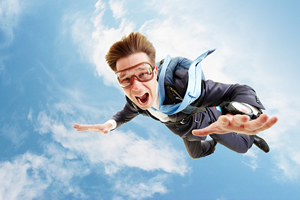 Felix Baumgartner's first step was a doozy. So much could have gone wrong. What if the parachute didn't open? What if his body went into an uncontrollable spin? What if the G's he pulled were so intense he lost consciousness?
But he didn't let the fear stop him. He stepped out of that capsule.
What made Felix Baumgartner push through the fear and take that step?
In a word, PREPARATION.
He prepared meticulously. He had made hundreds of jumps before this one. He simulated this jump over and over trying to prepare for any and all possible challenges. He wore a specialized suit that had been tested repeatedly.
And, he wasn't alone. He had medical personnel, trainers and advisors speaking to him along the way. There was even a computer program that would open his parachute in the event he was incapacitated.
Confucius put it this way, "Success depends upon previous preparation, and without such preparation there is sure to be failure."
That's why you have to prepare in the best way possible …
… and then, you just have to take the leap.
Here are some lessons from Baumgartner's world-record parachute jump that can help you reach your writer's life goal:
First, write something, write anything. Baumgartner didn't begin with a 24-mile jump. In fact, he had taken hundreds of base jumps, pushing himself a little farther each time. If you haven't yet written for publication, write an article and post it or offer to write a guest blog post. Put together a small website or write a sales letter marketing your services and ask another copywriter to help you critique it.
Second, assemble a team to help. None of us walks this journey alone. There are online forums and groups and regular copy critique virtual meetings that can help you improve quickly. Hang out with people that are further along than you are, so you'll be challenged to take your writing to the next level.
Third, just take the first step. At some point with all the preparation, it's time to take your first step. There are far too many people that get caught in an endless loop of "taking one more course" or "reading one more book." Step out! When you do, you'll see the net is already there, because of YOUR preparation.
More than a few years ago, I was given my own daily radio broadcast because I stepped out and asked. I had only been on the radio prior to that as a caller. I realized that I needed help! It was a five-minute daily motivational program that I had to script, produce and record. My wife was my editor and the board operator at the station walked me through the rest. Those two years on that show taught me to write tight and contributed to where I am today.
So, take the first step, you never know where it might lead.
What steps do you still need to take? What step will you take TODAY? Tell me about it in the comments.
Join me again tomorrow as we look at why seeing really isn't believing.

The Professional Writers' Alliance
At last, a professional organization that caters to the needs of direct-response industry writers. Find out how membership can change the course of your career. Learn More »

Published: January 12, 2015