How You Can "Go Small" for Big Revenue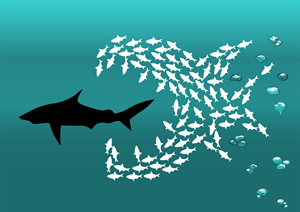 When I was running a software company, my best revenue came from monthly support payments, not from big projects. These ongoing support payments funded an engineer to fix and enhance existing systems, while big projects — the development of new systems — came infrequently and required total involvement to complete successfully.
Payments for support were consistent. Support contracts were easier to establish. The work was less intense and allowed marketing to be uninterrupted. And many smaller, but urgently-needed contracts like this easily grew to a significant income.
Copywriting is like that. While you wouldn't turn down a large, new project from a big client, smaller clients can give you a significant, growing income. These smaller clients can be easier to work with and results will be easy to track.
Smaller clients, like my software company, need to produce marketing materials and papers helpful to our customers. My larger competitors were creating a lot of information and I knew I needed to 'create content' to remain competitive. I talked to marketing companies to get help with sales letters, case studies, white papers, and blog content, but they wanted to create big campaigns and invest in expensive advertising channels. A copywriter to create consistent, useful, helpful content would have been a welcome addition to my list of trusted business partners.
Keep in mind, small businesses probably don't have a VP of Marketing. Instead, someone has to perform marketing tasks along with their other business responsibilities. Very likely, you'll be working with the business owner, who can't completely focus on marketing every day.
Benefits of Finding the Right Small Clients
In addition to consistent revenue, some of the biggest benefits to working with the right small businesses are:
You'll gain clients more rapidly. There are fewer gate-keepers to keep you from working with the decision maker.
These smaller chunks of income build up quickly. For example, I would have gladly paid $150 a week for a relevant blog entry, a $1,000 every couple of months for a short case study illustrating a problem solved, and $3,000 a couple of times a year for white papers to distribute at conferences and include on the website. That's over $25,000 over the course of a year from a single small client that had gross revenues of about $500,000 dollars per year.
Small business owners will be happy to give you referrals and introductions to other small business owners. Your best referrals will come from someone that can also brag about the results they get from your work.
Your expertise will be valued and you'll be treated more as a marketing partner, not a disposable consultant.
The loss of one small client won't hurt as much losing a big one.
But there are problems with working for the wrong small business. If they don't have a big vision for their business or they don't serve a market that can support the kind of growth you can build, they aren't right for you.
Here are three tips to finding the right small clients that will bring you big revenue every month.
First, Find Businesses with Growth Potential
This usually eliminates small local businesses that can't grow quickly. Typically, businesses like salons, lawn care, and auto repair shops don't grow much beyond the owner's ability to perform the work. You can work with these companies as you start out, but you'll eventually see which of these clients have good growth opportunities and which you'll need to leave behind.
The 'right' clients can expand their service or product to a larger target audience. Software delivered over the Internet can have high margins which leaves more money to invest in marketing. Companies that sell products both locally and over the Internet can also be great clients for you. Retirement planners, supplement providers, and independent insurance agencies are all examples of local businesses with high margins that can grow quickly.
The ability for a small company to grow comes down to finding an owner that's thinking big.
Second, Find an Owner with Vision
You will encounter owners that have a great product or service, but don't believe much marketing will be needed. The 'better mousetrap' theory will stifle their growth because they believe the product will sell itself.
Many engineers that start a business are afflicted with this belief. Until these small business owners recognize the importance of marketing in driving sales, they aren't the right company for you.
But, when you find a company with a great product and an owner that appreciates the need for marketing, you're almost there. It's time to make sure you can give them what they need.
Third, Match the Company's Needs with Your Strengths
If your best skill is keeping social media current and relevant for B2C clients, pick clients that need writing in these channels. Many B2B opportunities require regularly-scheduled blog entries, case studies, and white papers. If that's your talent, find a company that needs these skills.
Where to Find Clients
Look for smaller companies in industries that excite you. Health and fitness, financial services, and software are examples of industries where target audiences can be big and you can work with products you like.
Once you've picked your industry niche, start looking for companies that have growth potential and an owner with a big vision.
The easiest way to find these companies is to ask friends and neighbors or visit a local Small Business Development Center (SBDC). SBDCs are typically associated with local universities. Ask for help in finding companies that fit your requirements. You'll be surprised how many contacts you'll get. Another way to find these companies is by attending a trade show or industry conference for your niche. Smaller companies will be in smaller booths and you can evaluate their marketing materials. Groups on Facebook or LinkedIn are also great ways to find companies that fit your client profile. You can participate in these groups to provide help and advice before ever submitting a proposal.
Approaching a potential client is easy if you use an 'informational interview' to find out more about their company. You've picked this niche because you're interested in it. You're talking directly to a decision maker because you've been referred by a friend, local SBDC, or are talking to them at a conference or industry group. Now is the time to express your natural interest in their industry, products, and problems. Ask questions and let them talk. Don't try to sell — listen to understand. After letting them fully explain their situation, you can decide if this is someone you'd like to work with.
Start Building Your Own Monthly Payments Now
Smaller clients can act more quickly and are easier to approach. You can build your monthly 'support' clients quickly to reach your revenue goals. Each client will bring in less money than a big company, but you can easily partner with clients that will stay with you for a long time. You'll create a great revenue stream that isn't dependent on one big client. You can choose your clients and work together to increase sales, for you and for them.
This article, How You Can "Go Small" for Big Revenue, was originally published by B2B Writing Success.

The Professional Writers' Alliance
At last, a professional organization that caters to the needs of direct-response industry writers. Find out how membership can change the course of your career. Learn More »

Published: January 8, 2015