Living the Writer's Life … Simple Secrets of the Pros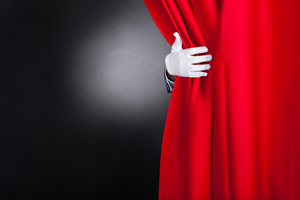 Many of us grew up watching the classic movie, The Wizard of Oz. The "Wizard" uttered the above quote at that moment Dorothy and her friends discovered he wasn't a wizard but rather a mere man feverishly manufacturing it all.
Welcome back for day four of The Writer's life. All week we've been sharing ideas as to how to make the leap into the writer's life this year. Over the past three days we've looked at making preparation, goal-setting and platform-building a priority. Today, I'll unveil the SECRET to making the leap into the writer's life.
All of us have people we respect in this industry. They're the gurus, the wizards. It's not that they call themselves that … it's just that they've reached a certain level of success. And they make it look easy, almost effortless.
But, if you were to peek behind their curtain, you would find a human being, just like you, working hard to make it happen.
Today is a good time to talk about another salient point: the secret to living the writer's life isn't wizardry but rather a whole lot of WORK.
The good news is there are several steps each of the pros has taken and have in common. Here are a few …
First, they write every day. Some strive for a particular word count, others for a certain number of pages, and still others will work on whatever project they need to finish at the moment. The type of method you choose is less relevant than the act of writing, every single day.
Second, they never end a work day without doing something that will help to fill the pipeline of business in the future. Far too many of us wait to market ourselves until the prospecting well is empty. The key is never to let it run dry. Do something every day to move your business forward. Send out a proposal, email that marketing packet, or give that speech to your local Rotary club.
Third, they never stop learning. Even those that are at the zenith of their careers are continuously reading new books and researching the newest ideas in their particular niches. They're committed to constantly improving themselves.
Sounds simple, doesn't it? It is … but, make no mistake, it isn't always easy. However, it is worth every ounce of sweat equity and financial investment you put into it.
When it comes to the writer's life, we DO have to pay attention to the "person behind the curtain," because he didn't get where he is by accident. Just like Dorothy and her "team," what we learn from the experts and each other could just change our lives.
With the start of a new year, what courses will you take, books will you read, or mentors will you seek out? Let me know in the comments.
It may be time to find a person that can help you and meet "who's behind the curtain." You may be surprised just how much it could change your course.
Come back tomorrow for my final installment of the week. We'll look at why an itch may just be more important than a niche.

The Professional Writers' Alliance
At last, a professional organization that caters to the needs of direct-response industry writers. Find out how membership can change the course of your career. Learn More »

Published: January 15, 2015