Opportunities – They're All Around You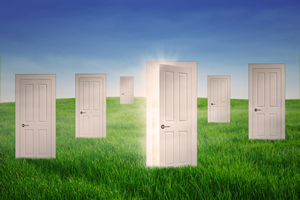 It was a dark and stormy night … no, really, it was! There was a break in the storm, so I rushed out the door to walk the dog. Suddenly I heard a rustling in the bushes. My dog (all five pounds of him) jumped back, and I did, too.
Then, I saw it …
Bob Sands here with you for the final day of this week's The Writer's Life. Thanks for joining me.
"It" was not what I expected. What startled both of us came out from the darkness. A kitten – and a little one at that.
He appeared both cold and wet. I kept walking with the dog, but the little kitten followed me all the way back to the house.
When my wife saw him, he immediately jumped on her lap. We were the proud owners of a new kitten!
The funny thing is we weren't looking to add a cat to our family. He found us, and we were glad he did. By the way, we named him "Maverick."
That's just one example of how taking an advantage of an opportunity when it crosses your path, can really fulfill a need.
Let me explain.
When it comes to the writer's life, experts will tell you …
"Find your niche … it will make you rich."
"Specializing is the key to maximizing your profits."
I don't know about you, but when I first started my career, I wasn't sure what my niche was. Furthermore, along the way, I stumbled upon new niches that I never thought I would like, much less be successful in.
As I look back on that stumbling/discovery process, I realized there is a common denominator that made it happen.
New niches … like that kitten who found a new home with us … often found me.
And that process was rather simple. Whenever a new opportunity presented itself, I would give it a try.
You see, there are a lot of companies out there who have experienced horrible ROI (returns on investment) when it comes to marketing. For many, it's an ongoing challenge.
That's where you come in. When their problem intersects with your copywriting skills and marketing knowledge, new opportunities are often created.
I took this "give it a try" mindset when I first started out, and I still do it today.
Here are a few ideas to help you tap into this approach …
First, be open. If you're starting out or starting again, don't limit yourself by taking on only "certain projects." Don't do it. Ever. You may be passing up a good opportunity to find a new niche or missing an opening to gain a new client that will allow you to eventually write for your "sweet spot." By the way, if you've been at this for a while, stay open, too … you never know what new frontiers you'll discover.
Second, be honest. If you have an opportunity to write "outside your comfort zone," be honest with the client about it. This happened to me last year. I was asked to try something outside of my wheelhouse. I did. I liked doing it, they liked what I gave them, and it resulted in expanding my business into an area I would never have thought about getting into.
Third, be aware. Learn to listen at networking events, to current clients, and everywhere your potential prospects hang out. Hear what they talk about that's problematic for them. Tune into what they say they need. Once you determine their needs, it's time to pitch them on how you can help give them the relief they're looking for. Opportunities are all around … all you need to do is tune in.
Do you have a niche or are you still looking for one? How will you look for that itch today? Please let me know in the comments.
That's all for this week's The Writer's Life. Thanks for hanging out with me.

The Professional Writers' Alliance
At last, a professional organization that caters to the needs of direct-response industry writers. Find out how membership can change the course of your career. Learn More »

Published: January 16, 2015