Play Your Way to Success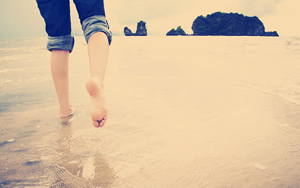 Charlotte Hicks here with you again … for Day 5 of this week's The Writer's Life.
Over the course of this week, you've identified your big goal and eliminated the top three obstacles to success. Congratulate yourself — few people get this far in their goal-setting process!
You're probably excited and ready to go. But first, let me give you one more advantage.
So far, all we've talked about is work and commitment. What about life? You know the old saying, "All work and no play makes Jack a dull boy?" Well, it also can keep Jack from fulfilling his goals.
Business success can be very rewarding. But most who pursue the writer's life do so because they also value freedom and the time to enjoy family, friends, and leisure activities.
I was raised with a very strict work ethic: No play until your work is finished. Unfortunately, what I found was that the work didn't get finished, and the play rarely happened. Day after day I'd slave away at my desk while the warm ocean and bright sunshine called.
Over time, I became resentful of my work. I watched others enjoy their time off, while I sat and punished myself for not getting it all done. I read dozens of books about procrastination and tried just about every strategy to overcome it without success.
Then a colleague shared a book with me that radically changed my thinking. It presented the concept that playtime was critical to overcoming procrastination and achieving success. Wow!
Neil Fiore's book, The Now Habit: A Strategic Program for Overcoming Procrastination and Enjoying Guilt-Free Play, was a game changer for me. If overcoming procrastination has ever been a challenge for you, I encourage you to read it.
In the book, Fiore argues that playtime isn't just nice; it's critical to a healthy mindset. He explains few people have difficulty finishing a project, but many struggle getting started. Scheduling playtime is the key.
I realize it's counter-intuitive. So does Fiore, calling the practice the "unschedule."
Here's how it works …
Take out a planner or calendar. Block out any commitments you already have for appointments, meetings, etc. Then, before you schedule your work for the week, schedule some time for fun and relaxation. That's your reward for your work. Now, schedule your work within the remaining time blocks.
For example, I've decided that on Monday I'm going to have lunch with my friend Susie as a reward for my work that morning. Then in the evening, I'll schedule a 30-minute walk on the beach as a reward for what I accomplished that afternoon.
It's important to see those activities as rewards, so when you sit down to work you can say, "I'm choosing to do this now so I can enjoy my reward afterwards."
(Here's a great article by Guillermo Rubio, who explains Fiore's concept in more detail.)
It's much easier to get started on your work when you know there's a reward waiting. It's a bit like the day before vacation. You just get it done.
See, the copywriters who are successful don't do monumental things every day. They just consistently execute. Little by little they build their writing business until they achieve the success they envisioned.
Give the "unscheduled" a try — go ahead and schedule out your next week, with designated rewards throughout the week. You'll be pleasantly surprised at how much more efficiently you work. Share your experience in the comments!
Thanks for sticking with me this week. You've worked hard to define your goal and eliminate the obstacles to your success.
Now that you have your big goal, you can easily determine the best and highest use of your time each day.
Congratulations! Now, go play!

The Professional Writers' Alliance
At last, a professional organization that caters to the needs of direct-response industry writers. Find out how membership can change the course of your career. Learn More »

Published: January 30, 2015