A Proven Way to Avoid "Getting Lost" in an Editor's Inbox

All this week, I've been sharing behind-the-scenes things you can experience only at Bootcamp.
And I've asked you to visualize your own "Make-It-Happen" plan that solidifies your commitment to attend.
From picturing the kind of peer support group you'd like to connect with
… To visualizing which copywriting legends you'd like to meet, one-on-one …
I've also asked you to imagine yourself sitting up there on the fabled Success Panel …
… And to think about how it would feel to have so much money from your copywriting income that you could spring for things most people can't afford …
Well, today, I want to talk about how to launch that whole getting-paid-loads idea.
If you've never had a paying client before … or, if you want to bump up your income from where you are now …
Then you've got to connect with hiring marketers and clients, right?
And, there's no better place to do that than Bootcamp's annual Job Fair, right?
Not only yes, but heck yes.
Why? It goes back to the power of personal, genuine connection. That's how one writer this year landed a job writing for Barefoot Writer magazine – her very first assignment ever.
I was staffing the Job Fair table for Barefoot Writer when a woman with a big smile approached me. She explained that she'd emailed me an idea for an article. But her name and article idea didn't ring a bell. I get dozens of pitches every month, and couldn't place her.
Luckily, we kept right on talking. Soon, we had a connection … and it wasn't long before she walked away with a paid assignment.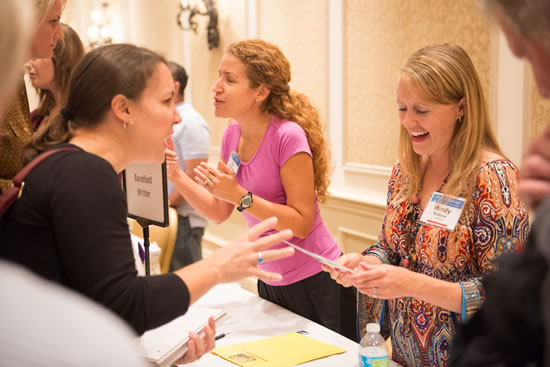 Barefoot Writer Editor Mindy McHorse talks with Rachael Kraft about possible projects.
Once again, technology is great – and it works for a lot of things. But, if you want to fast-track your writing career and really make great strides fast … you've got to show up.
At Bootcamp, you come face-to-face with clients who understand they have a need for copywriting. That's why they're there, looking to hire.
But at the same time, simply by being there, you show you're serious about being a copywriter … that's why you're there. By default, it weeds you out of all the emails and electronic pitches that too often look the same.
So, your final visualization exercise for your "Make-It-Happen" plan is to picture yourself right there at Job Fair, in the thick of all the hiring marketers, talking to someone from a company you'd like to write for. Picture yourself making that connection … and landing that assignment.
Have any questions about how Bootcamp can make a difference in your writing career? Ask me here.

The Professional Writers' Alliance
At last, a professional organization that caters to the needs of direct-response industry writers. Find out how membership can change the course of your career. Learn More »

Published: January 2, 2015