To Land B2B Writing Projects, Get on the List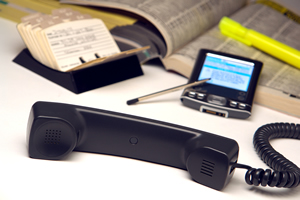 Welcome back for Day 3 of The Writer's Life.
I'm Gordon Graham, "That White Paper Guy." And this week I'm sharing some tips on how to land clients in the booming world of B2B content marketing.
So far, I've covered why you should specialize, and why you shouldn't waste your time persuading prospects to use the type of content you want to write.
Today I'd like to expand on something I touched on yesterday: Why you must get on the list of writers every marketing executive keeps.
Consider this: No winning sports team depends on a single star. Instead, the manager of any team builds up a well-rounded roster. Every baseball team needs a relief pitcher. Every hockey team needs a second line of defense.
It's the same for any B2B marketing manager: They need to build a team of content contributors, not just a single writer.
Anyone publishing content keeps a list of current and possible writers. That list can be in their heads, in a folder of emails, or scribbled on the back of an envelope. But they all have one.
So, if you find an ideal prospect with a strong writer in place, don't give up. Just adjust your sights.
If you can't be #1 on their list today, work at being #2. Make your goal to get on their roster as the second-string writer they call whenever their #1 writer can't deliver.
There are many reasons why that might happen. Their main writer might be on holiday. Getting married. Hung over. Pregnant. Sick. Their child or aging parent might be sick. They could be overloaded with too much work.
You want to be #2 on that prospect's list, like an understudy waiting in the wings for the day when the leading star can't perform. That happened to me, early in my writing career.
One Monday morning, on the way to my full-time job, I stopped to drop off a small article I'd written for a trade magazine on the weekend. And before I got into my office, the editor phoned to ask me to write the cover story for the next issue. Their original writer was sick, and I understood the topic. Of course, I said, "Sure!"
From that lucky break, I went on to quit my full-time job, write close to 1,000 magazine articles, and win numerous awards. It happened to me, and it can happen to you.
Here's another key: Don't expect a prospect to just remember you.
Be memorable. Get your name in front of your prospects every month or so. Connect with them on LinkedIn. Forward useful articles that bear directly on their work. Tell them when you complete a project similar to theirs. Let them know your availability around major holidays. Send them your e-newsletter.
Keep your name in their minds—without being a pest—so that you work your way up the list to #2. Then some day, you'll get your lucky break.
Share your comments here.
And tomorrow, I'll explain the four types of content that generate the most repeat business, hands down.

Crash Course in B2B Content
Dive into the lucrative world of B2B content writing. Expert Gordon Graham will show you the top 12 content types in high demand by B2B firms and how to complete each one like a pro. Learn More »

Published: January 21, 2015