You Found a B2B Client – Now Keep Them!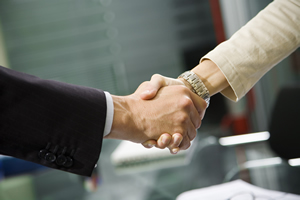 After you land a client for B2B content, your "real work" starts.
Gordon Graham here …
So far this week I've covered four key aspects of landing B2B clients: specialize, pursue prospects that use your preferred format, get on a prospect's list of writers, and find clients with repeat business.
Today I've got a final set of tips on how to keep your B2B client happy.
Of course, every type of content is a little different, from blog posts to white papers.
But I think these five pieces of advice that I've learned over the years apply to all B2B content projects.
Happy client tip #1: Polish your drafts.
Don't send in your first draft the minute you finish it. Relax. Keep it overnight. Read it calmly the next morning, and you'll see things you could improve.
One writer I know advises taking a printout into another room to read, not re-reading it on your regular screen. Or have your computer read it back to you, using its text-to-speech feature. Writing is rewriting. However you manage it, sleep on your drafts, then take time to polish them.
Happy client tip #2: Hit your word count.
If your client asks for a 500-word blog post, give them 480 to 520 words. Not 600 words, and not 750. They hired you because they don't have time to write their own content. Who do you think has time to trim down your 750 words to size?
Happy client tip #3: Include everything your client needs.
That means headlines, subheads, pull quotes … all the little bits and pieces your piece needs before it can be published. Leaving out these bits makes more work for your client. That's not what you want.
Happy client tip #4: Offer to proofread.
Who better to do a final proofread than the writer who created the content? Offer to read the final PDF or webpage—for free—as soon as your client has it. If you catch any glitches, great! Meanwhile, you can study any changes your client made to your copy, and learn how they like to say things.
Plus, this gives you another contact with your client, if only to say everything's A-OK. And every contact is a chance for them to ask, "When can you start on another project for us?"
Happy client tip #5: Deliver sources.
Even the New York Times has printed false stories, due to sloppy fact-checking. Ronald Reagan wasn't exactly talking about B2B content, but his words apply: "Trust, but verify." B2B clients should trust their writers, but verify their sources.
Many content writers quote a person, article, or report without sending the client the source. At best, they stick in a weblink. That's just lazy. Webpages come and go. Clients need something to spot-check and then file away. When you send your client PDFs of all your sources, you really stand out.
Share your comments here.
Thanks for reading this week, and good luck with all your B2B content writing projects!

Crash Course in B2B Content
Dive into the lucrative world of B2B content writing. Expert Gordon Graham will show you the top 12 content types in high demand by B2B firms and how to complete each one like a pro. Learn More »

Published: January 23, 2015