4 Tips From Nick Usborne for Better, More Effective Websites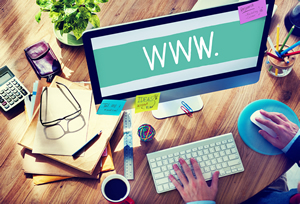 Welcome back to my live report from the 2015 Web Intensive!
So far this week, we've learned how to get paid to write proposals for prospective clients on what they can do to improve their websites, and how to put together an effective content strategy.
Today, I'm going to share with you some of the incredible tips I got yesterday from Nick Usborne's session on advanced web writing.
Nick is one of the world's first online copywriters … he literally wrote the first book on the topic! And, for many years, he's made a generous income working with companies to improve the power of their websites to tell a story and win over customers.
One big take-away from Nick's session is that no piece of a website works in isolation. While clients (and writers, too) may think of social media, web content, and sales copy as separate buckets, the reality is they all need to work together. They also need to work with the graphics and layout for each page.
So, your job as a web writer is to help your clients coordinate the different elements of their marketing and present their story in a way that feels natural and inviting to new visitors.
How can you do that? Nick shared dozens of tips in his session, but I'm going to share four of my favorites:
Start by asking what visitors want when they come to the site. Clients often have a long list of things they want to share with visitors, but what do visitors want?

Focusing on visitor desires is an excellent way to frame up any web writing project. It's incredibly mission-critical, too. If a new visitor to a website doesn't very quickly see something relevant to his desires, he'll assume he's in the wrong place and leave.

And, as Nick says, it doesn't matter if you get a million visitors – if no one sticks around, it's all worthless traffic. You need visitors to feel they're in the right place, right away.

Focus on the homepage. It should never be just a "shop window" for a company, overstuffed with product lists. The homepage needs to invite people to move forward and take the next step toward starting a long-term relationship with the company.

So, ask yourself (and your clients), "Is this page working as a 'dead-end' shop window stopping point, or as the start of a journey together?"

Clear up "How do I …" questions in the minds of visitors. Strip out extra complexity in the design and the text so it's crystal clear how visitors sign up, opt into a list, download a report, get a quote, etc.

Nick points out that 80% of website visitors want to do just three or four things when they first arrive on a site. If you make it super easy and obvious how visitors can find what they want to do when they arrive, they'll hang around much longer and do much more.

Value white space! Working with hundreds of companies, Nick's found you can increase the conversion power of any page by increasing the amount of white space around the elements of the page. The extra white space allows a reader's brain to process each piece of the page as a distinctive element instead of just a blur of words and images.

Plus, by encouraging your clients to focus on white space, you help them strip out "extra" items that they may value but visitors aren't interested in seeing. It also helps fight what Nick says is a terrible trend – the wall-to-wall "image clutter" design of pages that look good but don't guide visitors to a clear next step.
Using just these four tips, you could build a whole web writing business focused on homepage improvements (Nick made a ton of money just focusing on this one piece for years.)
And it's easy to start – you can try it on for size right now.
Think about your favorite website. What do you want to see when you get there? What are you hoping to find?
Now, visit that page. Is the main homepage a starting point or a shop window? Is it very clear to you "how to" move forward? Is there ample white space so you can clearly understand and process all your choices?
What's the next step? Make a list of potential improvements … and just like that, you've moved forward in your journey toward being a well-paid advanced web writing consultant.
Share your visits and your experience with me in the comments. And, if you have more questions about improving homepages, increasing customer focus, and stripping away distractions, just ask! Nick's right here and able to answer your questions.
Tomorrow, we'll take things one step further and dive into the "back end" of web writing … search engine optimization (SEO) …
… also known as the "behind the scenes" work you can do to help your clients do better with their search engine rankings.
Heather Lloyd Martin – the pioneer of SEO copywriting – is here and she's already promised to de-mystify the whole process … plus share how to use it to earn higher fees by offering this service to clients.

The Professional Writers' Alliance
At last, a professional organization that caters to the needs of direct-response industry writers. Find out how membership can change the course of your career. Learn More »

Published: February 11, 2015