A Hidden Source of Easy Copywriting Practice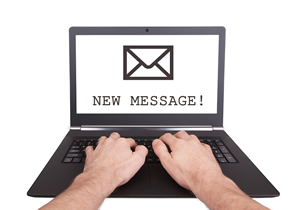 There's one activity you must do if you want to be a good copywriter.
One activity you cannot replace with any other activity. One activity that, if you do it daily, you'll become a better copywriter … and even rise to greatness. One activity, if you don't do, you'll never rise above mediocre.
The one activity you must do if you want to be a good copywriter is …
WRITE DAILY
And, your practice will bear fruit faster if you can get in at least 30 minutes per day. But sometimes it's almost impossible to get in a solid 30 minutes of copywriting practice every day.
A hidden source of copywriting practice …
However, there's writing you probably do every day, even when you're traveling. If you're like most people, this writing is a quick jot without much thought. You'd hardly think of it as copywriting practice. You just write … then click the send button.
I'm talking about email. Email as copywriting? How's this possible?
Copywriting is a special form of compelling writing. And, as a copywriter, you should view all your writing (except shopping lists and the like) as efforts at compelling writing.
So, make your daily emails reflect everything you've learned and are learning about effective copywriting. Here are 5 strategies for doing that …
1. Write a meaningful, compelling headline …
Your email subject line is really a headline. If your email reader is typical, she may have as many as 25 emails every day to read. Or more. Your subject line should convince her to read your email first.
You don't have to base your subject line on all the secrets you're learning from AWAI. But, it should be direct, purposeful, specific, informative. And concise.
You have about 40 characters to get this concise summary across. Consider a subject line like: "DHEA article 1st draft from Will Newman." Thirty-nine characters with the most important information at the beginning.
2. Build rapport with your reader …
I'll reveal a secret. This is the impetus for today's article. I get lots of emails from AWAI members. About a third of the time, the email starts out like:
I noticed in your last Golden Thread article you talked about …
No "Hello Will." No "Hi Will." No "Dear Will." No salutation at all.
I'm always just a tiny bit irritated when I get emails like this. If you saw a friend on the street, would you launch into a conversation without saying, "Hello"? Of course not. That would sound unfriendly.
Your salutation is your opportunity to begin your email—your practice copywriting exercise—on a friendly note. It also sets the personal, conversational tone for what you'll be writing.
What salutation you use depends on your relationship with the recipient. When I write Katie Yeakle, I say, "Hi Katie." If I'm writing Mark Ford, I might say, "Hello Mark." If I were to write Jay Abraham, whom I don't know, I would use, "Hello Mr. Abraham" or, "Dear Mr. Abraham."
But I always use a salutation for my first email of the day to that person. You should, too.
3. Make emails readable …
As a professional copywriter, you strive to make your copy readable. This should be just as true with email.
Your email recipients—especially your clients—live busy lives. You don't want them to dread seeing your email in the inbox because they're long, rambling, and hard to read.
Keep your messages short and to the point. If you're writing for business, avoid unnecessary conversation … remembering at the same time to be courteous and professional.
Use short sentences and short paragraphs. Don't run email paragraphs together. Separate them with a blank space. Hit "Enter" or "Return" twice to accomplish this.
This is important, even if you write short paragraphs. If they're jammed together, your email will look crowded, unfriendly, and hard to read.
Email gives you the opportunity to express your personality by using a wide range of fonts and backgrounds. Don't … especially if you're writing to clients. They don't care about your "personality." They only care about your copywriting skills.
Follow this same strategy for all your emails, even those to friends and family. Make your words carry your personality.
4. Always be courteous …
Even if you're incredibly upset with the recipient, keep your cool. It's easy to fume, write, send … and then regret.
Emails reflect your professionalism. Yelling never makes you look professional.
Here's another reason to keep your cool. Email travels. You may have a legitimate gripe with a client. You send a fuming, frothing email, and without your knowing it, 25 of his industry associates have read what a jerk you are.
The same with personal emails. It's better to get across your message with professional words without resorting to unprofessional behavior.
Last word about courtesy: Never use ALL CAPS. This isn't only hard to read; it's considered to be yelling. Don't do it. Ever.
5. Always send "clean" emails …
Does your quick note to Aunt Jane need to be free of typos and misspellings? Always. Get in the habit of proofing every email you write. I have an email program that checks spelling and won't let me send until I change or approve every flagged word.
Of course, typos will sneak through sometimes. But never write and send without rereading your email to eliminate as many of these sneaky errors as possible.
Follow these five strategies every time you write email … and you'll add many minutes of copywriting practice you didn't realize you had.
Remember, the secret to becoming a successful writer of any kind is to write.
So, until we meet again, keep writing!

The Professional Writers' Alliance
At last, a professional organization that caters to the needs of direct-response industry writers. Find out how membership can change the course of your career. Learn More »

Published: February 2, 2015