Boost Your Confidence With a Message You Can Love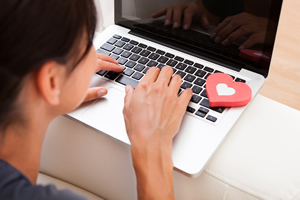 In the second article in this series I talked about how you wouldn't turn up for a job interview wearing a dirty t-shirt and track pants.
Instead, you'd get dressed up in your best clothes. You'd get your hair done. And so on.
But a winning interview isn't just about what you look like. That's an important part of it, but it's not all of it.
It's also about what you say.
And that's what we're going to talk about today. We're going to look at finding the right message for you to share on your website, and in conversation.
Believe me, finding the right message will do wonders for your self-confidence and help you snag the very best opportunities.
Let me explain what I mean.
The key is not to sell yourself, but instead to sell your message.
Back when I started looking for work as an online copywriter, I had no clients, no portfolio and not even a website.
If I had tried selling myself, it would have sounded a bit like, "Hmmm … no, I have no experience in online copywriting. Nope, nothing I can show you. Oops, sorry … no, I don't have a website, company name or business card."
As you can imagine, it would be tough to feel self-confident delivering a pitch like that.
So, I didn't even try selling myself.
Instead I sold my message.
My message went a little like this, "Writing for the web is different. You guys are cutting and pasting copy from old print materials to the web. That won't work. But I can tell you what will work."
I presented a problem that was real, and promised to solve it.
My prospects knew I was right about the problem – this was back in 1998 – so they hired me to fix it.
While I had no self-confidence when it came to selling myself, I had it in spades when selling my message.
You should do the same.
Find a problem your prospects have, and sell the solution.
Here are a couple of examples, to help get you started:
"With a website that isn't optimized, you're losing over 50% of your potential sales."

"If you're not engaging your customers through social media, they'll soon get friendly with one of your competitors."
Both messages address real problems … poorly optimized websites and poor use of social media.
I stood out from the crowd by being the guy who never shut up about writing for the web being different.
You can be the person who stands out by never shutting up about page optimization or social media.
(BTW – I cover this "message" topic in much more detail in my program, Marketing Confidence.)
This simple change in how you present yourself will do wonders in improving your self-confidence. You'll no longer have to get into those awkward moments when you try to pitch yourself, your skills and your experience.
Hey, it's really hard to feel super-confident about yourself. By nature we tend to be very self-critical, always zooming in on our points of weakness. Always comparing ourselves to others, who we feel are better than us in some way.
But, selling a message is very different. It's not about you. It's not personal. It's just something you can get really excited about.
When you focus on a message instead of on yourself, your confidence takes a lift.
You'll suddenly find yourself feeling a lot better prepared to get in front of top prospects … and you'll be in that magical place where the fireflies come out, and you'll be ready to catch some good luck.
Over the past few days we've talked about luck, networking, looking your best, your inner and outer games, and self-confidence.
In tomorrow's article, I'll wrap it all together and set you on the path to total self-confidence when marketing your freelance business.

Marketing Confidence: Learn to Love Marketing Your Business
Learn to love marketing your business, and start landing the clients you need to reach your financial goals. Learn More »

Published: February 5, 2015