Don't Let Perfection Stop Your Progress Toward Being a Great Writer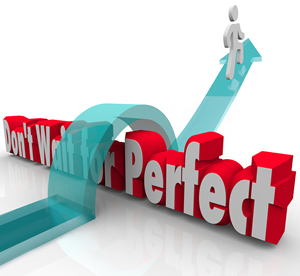 This week we're talking about The Seinfeld Method and how it can help you achieve your goals while in the middle of your busy, hectic life.
So far, we've looked at focusing on not breaking the chain to create a habit and visual motivator to consistently take action. And, we discussed how taking action, rather than doing an activity, is a faster way to accomplish your goal.
Now that you know what actions you're going to be taking – and hopefully it includes writing – you'll actually have to … act!
And, when it comes to writing, sometimes that simple act can be very difficult.
I can remember finishing the first act on a script I was working on, and I felt it was solid. Then I had to start the daunting second act – which is the largest act in a screenplay – and I just stared at the blank page with my fingers resting on the keyboard … for what felt like an eternity.
Everything that popped into my head just wasn't as good as the first act. I'd start to write … then read it … hated it … then immediately deleted it. I was going nowhere fast. It was a real struggle for me.
Later, I was in a screenwriting workshop with script consultant, Michael Hauge, and I was discussing my dilemma with him … when he said something to me that was totally liberating …
"Don't get it right, get it written."
In my quest to write the second act as "perfectly" as I believed I wrote the first act, I was unknowingly stifled by the paralysis of perfection.
This can be the cause for writer's block, procrastination and lack of self-confidence.
But, when you just allow yourself to "not get it right" and just "get something written" … you free the creative muse … and the writing process starts to flow.
Remember … we're not looking for perfection in the first draft – we're looking for progress. And, with progress comes improvement … which leads to self-confidence … that breeds consistent quality work.
In the story I told you on Monday … Jerry Seinfeld told the young comedian to write a joke every day.
Jerry didn't say to write a great joke, or even a funny joke … he just said to write a joke.
He said the way to be a better comic was to create better jokes … and the way to create better jokes was to write every day.
And, that's your goal …
To be a better copywriter, you just have to write every day … and it doesn't have to be perfect, it just has to be written.
By the way, that first act I thought was "perfect" had to be re-written numerous times. Everything about writing is re-writing. So, just let the fingers fly over the keyboard and the pen sail across the paper …
We're striving for progress – not perfection!
Here's a quick exercise to help you bypass that "perfection" mental editor …
Set a timer for five minutes. (Sometimes, to "not break the chain," you may have only five minutes to write … so get used to this fast, free-flow writing.)
Try writing a "5WH" story. It's basically a barebones news article: Who? Where? When? What? Why? How?
Don't think, just write! You'll clean it up later.
This will get you in the habit of just writing, letting go, then coming back to read what you wrote and, if you feel like it, improve it. But only take five minutes.
I'd love to hear your thoughts about this exercise. Tell me about it in the comments.
For tomorrow … I'm going to reveal the sure-fire way to achieve any goal … and that's to forget the goal!
What? Is this some kind of joke? Well, after all … this is The Seinfeld Method …

The Professional Writers' Alliance
At last, a professional organization that caters to the needs of direct-response industry writers. Find out how membership can change the course of your career. Learn More »

Published: February 25, 2015