Getting Ready to Catch the Firefly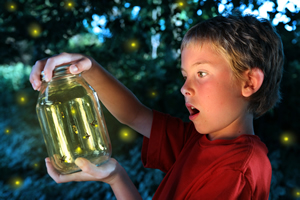 In yesterday's article I wrote about luck, and how it shares qualities with a firefly. There for you to grasp, but only if you're ready, and move fast.
Today we're going to look at preparation.
In other words, how can you be sure you're ready? How can you prepare yourself in ways that help you recognize and grasp good luck when it appears?
There are two elements here.
To get lucky you need to have a strong outer game and a strong inner game.
Let's start with the outer game.
First of all, luck only happens if you DO something.
If you're simply an observer or just sit around waiting for luck to happen, it won't. It's like trying to catch that firefly without getting up from the couch. Step one is to open the door and get outside!
In the last article I talked about how Shelley Jacobson flew down to Bootcamp. That was an act of getting ready.
She then raised her hand and asked to talk with me. There she was grasping the moment.
There are two main things you should do. (I'm taking these from my own past. From key moments where I saw an opportunity and grasped it.)
#1 – Focus on networking with people who are in a position to help you.
Almost everyone "networks" these days. But how valuable is your own network? If it's comprised of a lot of other people like you, it's probably not that valuable. I do very little networking with other freelancers. Instead, I network with connectors, influencers and prospects.
Connectors are people who are connected with the movers and shakers in our business. For example, I'm a connector myself. I know a ton of senior people in the business, and am constantly introducing people to each other.
Influencers are people who have influence and reach. For example, one of my biggest lucky breaks came about through knowing one of the founders of a major online marketing blog. (Influencers are often connectors as well.)
Prospects are the people who can give you work. These are the owners of small businesses and the marketing folks at larger businesses.
Reaching out to these people, getting to know them and keeping in touch with them has been my number one strategy for "getting lucky" for the past 35 years.
#2 – Present the best version of yourself.
You wouldn't go to a job interview in a dirty t-shirt and track pants, would you?
But that's how many freelancers present themselves to prospective clients.
Part of getting ready is getting dressed up for the interview. For us, as freelancers, that means having a website that's well-designed and looks professional. A photo that wasn't taken by your spouse, or at Walmart. A set of services that's clearly presented, and not a jumble of "I'll do anything."
These are the two major elements in the outer game:
Network with people who can really help you.
Look your best and make a good impression.
As for the inner game, that's the topic for the next article in this series.
And believe me, the inner game is as important, if not more important, than the outer game.

Marketing Confidence: Learn to Love Marketing Your Business
Learn to love marketing your business, and start landing the clients you need to reach your financial goals. Learn More »

Published: February 3, 2015