How to Break Free and Embrace Your Achievement-Filled Writer's Life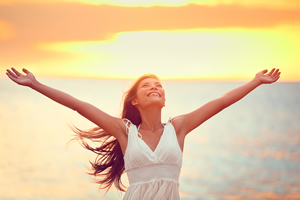 If you've been following along with the Resolution Reset Process I've shared this week, you should have your concrete, specific writing goals in place.
You should also know how to face change head on by rewiring your brain, and how to move forward without judgment and with a clean slate thanks to mindfulness.
And, you should know how to use self-hypnosis to transform your goals into action.
There's just one thing left to cover, which is how to let go of the bad …
… so you can fully embrace the good.
Everything we've talked about this week involves moving forward and overcoming fears. But, what about those other things in life that are beyond your control, but affect you on a regular basis?
Like a friend who takes more than she gives. Or an acquaintance who influences you in some negative way that isn't good for you.
Decide right now to let them go. Clear them out. Not in a mean way. Just in a way that prioritizes where you want to focus your time. After all, you have the right to free up your space.
This is actually the advice of author and meditation expert, Dr. Annette Annechild. She told me that, when she tackles resolutions, she also re-examines her life to make sure she's surrounded by people who lift her up. Because, what you don't want – especially if you have bright goals for the future – is to be immersed in situations that drain you, or among people who aren't like-minded.
A good way to figure this out, says Annette, is to pay attention to how you feel after you're with someone. Some people suck your energy, and some people give you energy. With too many people sucking your energy, you might feel tired and negative and not even know where your energy went.
But, you need that energy to move forward in your goals.
So, be conscious of what you're feeling. If you're aware of something in your life that's holding you back from pursuing your writing dreams, let it go.
I'm a big fan of Annette's meditation program for writers, Accessing the Writer Within. It's an easy-to-follow, 21-day system that retrains your brain into positive habits. And, in every exercise, she walks you through the steps of letting go.
My three-year-old daughter underscores this message on a daily basis. As she walks around the house, belting out the "Let It Go" theme song to Disney's animated movie, Frozen, I'm constantly reminded to let the bad float away, and to embrace the good.
I encourage you to use the different strategies and action steps I've shared this week as part of your Resolution Reset Process. I usually prefer to roll all those steps into one with the Accessing the Writer Within program, because it combines the elements of meditation with mindfulness and self-hypnosis.
That said, there's one final step in revamping your resolutions … or at least, it's what works for me every year I fall off the resolution wagon.
You see, my birthday is in early March. So, I kind of look at it as my own personal New Year's Day. And, if I haven't done what I hoped to in the new year – which is the case this year – then I kick off March with the same enthusiasm and freshness I felt on January 1st.
I hope you'll join me and do the same. Use the tools we've talked about this week, and let's make these next 10 months the most memorable, invigorating, satisfying, and achievement-filled months we've ever experienced.
Are you with me? (Please say yes!)

Accessing the Writer Within: A 21-Day Journey to Unlocking and Unleashing Your True Writing Potential
With these twice-daily meditations for writers, you'll immediately start to enjoy better creativity, greater productivity, bigger success, and more happiness. Learn More »

Published: February 20, 2015