How to Write Better Sales Copy Faster My Proprietary Secret for Cranking out Multi-Million-Dollar Sales Copy in Less Time than Most Writers Take to Plan Their Strategy …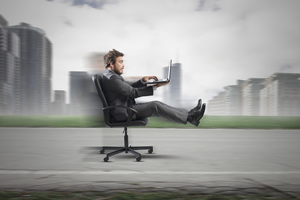 I predict that if you put this idea to work, this will turn out to be one of the most helpful articles you'll read this entire year.
Why? Because if you write any kind of sales copy, I'm going to show you how to get your first draft done in a fraction of the time it's taking you now – so you can spend much, MUCH more time sharpening and polishing your prose before you show it to your client.
One of the questions I get asked a lot is:
"Where do I start? I've got a copy of the control and the competition's best promos. I've got reams of research – all these facts about the product and the problem it solves. And I've got tons more stuff I'm thinking about from copy courses I've taken, books I've read and actual experiences I've had writing copy.

"At this point, my brain's a mess – teeming with hundreds of disconnected, even contradictory facts, figures, rules and ideas. I've got an unyielding deadline staring me in the face. And that blank screen is scaring me half to death!"
A few years back, I started using an entirely different approach than I used to. Since it requires a little imagination, we'll call it "The right-brain approach." (NOTE: This was a few years back, so some of the numbers you'll see below are out of date. Focus on the process.)
Here's the skinny on the prospect, product and offer I was working on at the time I developed it …
Client: Weiss Research
Promotion: Web page – copy will be recycled in an e-mail campaign to customer file.
Copy length: No limits – typically 12 to 20 pages or 12 pt. Times New Roman single-spaced in Word.
Prospect: 65-year-old male investor. Average net worth: $1.5 million. Politically and financially conservative. Subscribes to 2.5 investment newsletters on average. Twenty percent have purchased an investment product from my client. The balance are subscribers to his free e-zine only.
Product: International ETF Trader. Issues "buy" and "sell" signals for ETFs that own foreign stock market indexes.
Normal one-year price: $2,190
Discount: 55% off if they join before March 31
Net one-year price: $995
One-year savings: $1,195
Normal two-year price: $4,380
Discount: 59%
Net two-year price: $1,795
Two-year savings: $2,585
Premium: Global ETFs, Global Profits report
Value: $149
Risk relief: Full refund within 60 days, pro-rated refund for the rest of membership period
Testimonials: New product — none available
Order modes: Online and toll-free telephone
First draft deadline: 72 hours
So, to get started, I began by internalizing the research package the client sent me – storing it away in my subconscious (the "filing cabinet" of the human brain).
Then, I slept on it for a night.
Next morning, I did what I've recommended many times: I closed my eyes, leaned back in my chair, visualized my typical prospect, imagined myself bumping into him on the street, and proceeded to have an imaginary conversation with him.
Here's how my side of that conversation went …
Hey, Fred – you old profit hound, you! How's it going? Make any money last year?

Your portfolio's up 15% in a year? Wow. The S&P 500 was only up 13%. Not many professional money managers ever beat the market averages – that's great!

So, your $100,000 portfolio is now worth $115,000? You made a 12-month $15,000 gain? Congrats!

Me? Well, promise you won't hate me, but I'm up 130%.

Yeah, I guess that's right: About eight times more.

Yes, it was a $130,000 gain. Enough to turn my $100,000 portfolio into $230,000 in a year.

Yeah. I know. Lucky.

What? Leverage? NO WAY! No, you know me: I never mess around with anything risky. I didn't invest on margin. No, no futures. No options. No leverage at all.

How did I do it?

Oh. Well, last year I noticed that the U.S. stock market was only the 56th most profitable in the world. And since 55 other world stock markets were leaving ours in the dust, I figured that riding the slowest horse in the race isn't exactly the smartest way to win.

So I sold most of my U.S. stocks and moved my money into some of those foreign stock markets.

Emerging countries, mostly. China, Singapore, Hong Kong, Bulgaria, Brazil and a few others.

What? Difficult? Complicated? Used to be. Not now.

They've got these new things called exchange traded funds – ETFs for short. They're like mutual funds but without all the fees and trading restrictions, and they own all of the stocks traded on a country's stock market. They're as easy to buy and sell as any U.S. stock.

Yeah. If you own the China ETF and the China stock market goes up 130%, you get a 130% gain.

I know – sounds too good to be true. Thing is, it is true – and it's happening right now. Lots of world stock markets are jumping like crazy. The S&P only rose 13% last year – but Mexico's stock market was up 48.6% … Indonesia was up 55.3% … Russia was up 71% … China was up 131% … and you won't believe this, but Vietnam was actually up 144.5%.

That's right – you could have more than doubled your money in a single year. You could have just bought the ETF on the Shanghai exchange and then sat on your hands for a year. You'd have raked in a 131% gain.

Why are these stock markets so hot? Simple: These countries' economies are growing a heckuvalot faster than ours.

Our GDP only grew 3.4% last year – but Singapore's economy exploded by a mind-blowing 7.7% – more than TWO TIMES FASTER.

And China's economy has been growing about 10% per year for more than a decade – THREE TIMES FASTER than ours!

No, of course it won't go on forever. But it doesn't look like it's going to end anytime soon, either. See, so far, most of the gains in these foreign markets were caused by foreign investors like me buying into them. Now, though, there's a "critical mass" thing happening.

Half the world's population – three billion souls – live in these emerging countries. Now that they're leaving the farm for jobs in the cities, they have money to save, invest and spend.

They're entering the middle class and buying everything that moves. TVs, computers, cell phones, MP3 players, refrigerators, microwaves – all the stuff we take for granted. And as they do, they're driving earnings at hundreds of domestic companies through the roof. And you know what happens when earnings skyrocket: Stock prices skyrocket, too!

Plus, all those new wage-earners are just now beginning to save and invest – bidding up the price of the stocks listed on their local stock exchanges.

So, most analysts expect that investing in those exchanges will be even more profitable from here on out.

How do I know which of the one-hundred or so country ETFs out there are likely to make me the most money? Simple: I joined a service that does it for me. International ETF Trader.

Yeah. They use a trading system that outperformed the S&P 500 by more than six to one for more than 16 years to find the markets that look like they're going to lead the pack.

Then, they tell me what to buy, what to pay, even how to place my trade online or with a broker.

And when they figure it's time to sell, I get an e-mail telling me to take my profits. Easy as pie.

Yeah, I know – there's a lot of hype and hucksters out there. But the company behind IET has been around for 35 years. Heck. Even Hulbert has given this trading approach its top rating.

Expensive? Yeah, kind of. It's $2,500 a year. But heck I made ten times more than that on my very first trade. And besides – they've got this special available for new members who join before March 31 – it's only $995 per year.

Right. That's less than $2.73 a day – less than the price of a gallon of gas. You could easily make ten times that much on your very first trade – the rest is gravy.

Best part is, if you're not happy with your profits, you can cancel and get your membership fee refunded.

No, joining is easy, too. Here's the membership website. Or, if you'd rather join by phone, here's the number to call.

Yep, you can do all this with the brokerage account you already have.

They guide you to the foreign stock markets that are beating U.S. stocks by up to ten to one.

They give you buy and sell signals for each trade so you can do it quick and easy either online or with your broker.

If you join now, you can save up to $2,585 off the regular membership fee.

It's easy to earn more than your membership fee on your very first trade – after that, it's all gravy.

And you're in control – you can cancel anytime for a full refund.

You're right: It really is a no-brainer. But if you're serious about joining, you'd better do it quick. On April Fool's Day, the membership fee goes back up to $2,500 a year.

Sure. The website is X and the phone number is Y.

You're welcome, Fred! Next time I see you, let me know what you think. I'll bet you'll be tickled pink.

Ok – see ya!
… And so, when I finished my little imaginary conversation, I had a sturdy skeleton to flesh out. I had my most compelling sales arguments down pat, and a tight, logical outline for presenting those facts.
All that was left to do was to hang a little meat on the bones – which I did, in about eight hours of writing time – and delivered a strong first draft long before my 72-hour deadline expired.
Oh – and three more things you should know:
First, every fact, figure and claim in the letter that resulted was fully documented using reliable third-party data. No stretches, no exaggerations. The story itself is so compelling, it stands on its own.
Second, the page – and a dozen or so e-mails we carved out of it – generated more than $2.8 million in sales in just a few weeks, and …
Third, the trades recommended by International ETF Trader made our customers more money than they could have made with the S&P index at the time.
Now, that's what I call a win, win, WIN!!!
My client made millions … I made hundreds-of-thousands … and our customers laughed all the way to the bank.
Don't you just love it when a good plan comes together?
This article was republished with permission from Clayton Makepeace

The Professional Writers' Alliance
At last, a professional organization that caters to the needs of direct-response industry writers. Find out how membership can change the course of your career. Learn More »

Published: February 23, 2015