It All Comes Down to Marketing Confidence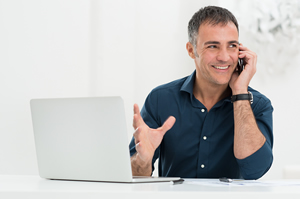 I began this series talking about luck.
I've steadily moved my own business forward, month by month and year by year, by working hard and building a solid reputation.
But the big leaps forward have always taken place as a result of a fleeting moment of good luck.
As a result, I'm always on the lookout for those moment and opportunities.
In fact, I grabbed one just a couple of months ago.
I found it because I was looking for it. And the people I'm working with on this project sought me out because I had taken the trouble to get to know them over the course of a few years. They already knew and liked me.
It other words, that moment of luck didn't appear by chance.
It appeared because I had prepared for it. Networking. Looking good. Watching for opportunity.
As a freelancer you want a ton of luck to come your way.
To make it happen for you, here are five steps you can take:
Strengthen your inner game, even if that means faking it until you make it.
Create a powerful message you can sell with enthusiasm.
Upgrade your website and make sure it communicates the best possible version of yourself … and your message.
Build a network of people who can really help you.
Invest further in your ability to market your freelance services with confidence.
What do I mean by that final point, number 5?
Well, with Shelley Jacobson, who I wrote about in the first article, everything changed for her after a 20-minute conversation.
That's all it took. She already had the writing skills she needed.
I can't sit down and talk with everyone, one-on-one, but I do have a program that walks you through everything I've written about in these articles, and more.
The program lays out everything step-by-step, in a process that takes you from where you are now to a point where you can market yourself with absolute confidence, get in front of the best clients and – best of all – find yourself in a place where good luck happens and is ripe for the taking.
The program, appropriately, is called Marketing Confidence.
One last thing …
With a little more self-confidence, you'll finally understand you don't have to be the best writer or copywriter in the world to make a six-figure income.
In fact, as I've said before, if you've taken one or more AWAI programs, you already have all the ability and skills you need.
It's not the best copywriters who make the most money. It's the good copywriters who market themselves with absolute confidence, sell a powerful message, and grab every lucky break that comes their way.
If that sounds like the direction you'd like to take, learn more about my Marketing Confidence program.
With these five articles and my program under your belt, you'll soon find a lot more luck in your life and career!

Marketing Confidence: Learn to Love Marketing Your Business
Learn to love marketing your business, and start landing the clients you need to reach your financial goals. Learn More »

Published: February 6, 2015