Video:


March Great Books Club Selection:
Mastery: The Keys to Success and Long-Term Fulfillment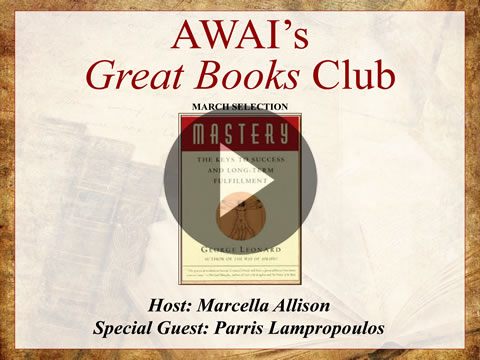 Audio Only (right-click to save) Slides Only
Becoming a copywriter of the highest level and owning a profitable freelance business is much easier if you have a solid foundation of knowledge and the right attitude.
And if you become a master at effectively applying what you learn from your teachers – and use focused practice to get better – not only can you achieve career success, but you can also achieve success in any area of your life. And this is the philosophy behind the next selection for AWAI's Great Books Club.
Mastery: The Keys to Success and Long-Term Fulfillment is the work of George Leonard, an aikido master who refined his formula for achievement through his work as a martial arts student and instructor … but soon discovered it could apply to anything in life. Among the many powerful lessons in this book are strategies for overcoming your resistance to change … breaking bad habits … energizing your body and mind … rising above "plateaus" in your progress … and much more.
Joining Club host Marcella Allison for this session is Parris Lampropoulos, an A-level copywriter who has written multimillion-dollar controls for Boardroom, Rodale, Agora and others. Says Parris:
"What can you learn about copywriting from a martial arts instructor? Plenty.

"In his book Mastery: The Keys to Success and Long-Term Fulfillment, aikido instructor George Leonard reveals the secret to mastering anything … from martial arts to playing a musical instrument to writing powerful sales copy. This book is so important that I make all my copywriters read it. And you'll find out why on the next AWAI's Great Books Club call."
That's a great point. The Great Books Club is all about helping you take your copywriting career to the next level, and in many cases, that means going beyond just studying copy and marketing strategies, and finding ways to fundamentally change the way you think about your career … and adopting the right mindset for success.
Doing so will help make your writing business that much more rewarding and allow you to discover fulfillment in all areas of your life. And this month's book certainly will help you along the way.
You can order a copy of the book here.

The Professional Writers' Alliance
At last, a professional organization that caters to the needs of direct-response industry writers. Find out how membership can change the course of your career. Learn More »

Published: February 20, 2015