Reset Your New Year's Goals and Relaunch Your Writing Career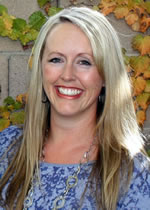 Mindy McHorse
One glance around my office, and I'm totally overcome by post-resolution shame.
It's mid-February, and my life still looks like it did – well, last December.
I've still got piles of stuff on my desk and scattered around my office. Chocolate wrappers are interspersed with overcrowded to-do lists. And I'm about to go swap out my too-tight jeans with some luxuriously baggy sweats.
This is not the hyper-organized, consistently exercised, driven-yet-balanced person I was supposed to be by now.
What happened?
More correctly, how come nothing happened?
I'm a big advocate of choosing "guiding words" over actual resolutions. Resolutions can be limited and easy to break. According to research from the University of Scranton in Pennsylvania, only 8% of people follow through on resolutions. Meaning 92% of resolutions are broken every year – usually by February.
A guiding word, on the other hand, can be applied to anything you take on. In the past, I've chosen persistence, courage, and all-in as words to guide my actions throughout the year.
Except … if you don't have a plan for turning your guiding word into action, it won't do anything for you. Same goes for resolutions.
Regardless of whether you made a New Year's resolution, chose a guiding word, or simply set some goals, you need a process for bringing those changes to fruition.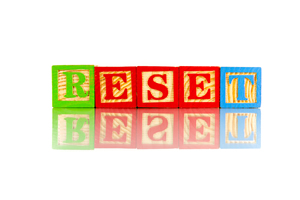 And, if you (like me) need a "Reset Button" to get you back on track for the remainder of the year … then I'm glad you've joined me this week.
In the days ahead I'll walk you through some proven ways to recapture that beginning-of-the-year excitement when anything seems possible. We'll go over how to set concrete goals, break free of fears, and take action.
After this week, you'll have strategies in place that make taking action as easy as breathing.
But first, it's worth asking … why even bother attempting a resolution or guiding goal if a whole lot of nothing is bound to happen? (Statistically speaking, that is.)
Start by understanding how declarations for change are connected to your goals. In this case, a resolution or guiding word is your path to change. A goal is your destination at the end of that path.
Now, the funny thing about pursuing a writing career is that there isn't a fixed path. Not like with other careers, where you need a specific degree or certification and then a set number of years under your belt before you can advance.
Writing is more like the Wild West. You can bust out of the gate and sign a high-dollar client immediately, or you can cover a lot of time and distance before you get what you want.
So, it all hangs on knowing what you want.
Today, I want you to re-examine your writing goals for the year. Let's get clear on where we're going before we decide how to get there. Then tomorrow, we'll begin the Resolution Reset Process.
When it comes to a writing career, here's a good goal-deciding strategy:
How much income do you want to earn by the end of this calendar year? Choose a concrete dollar amount.
How much time can you devote to writing? How many hours per week?
What's your long-term, lifestyle or big-picture goal? For example, do you want to travel the world when you retire? Send a kid to college? Buy a vacation home?
Remember, specifics rule. You're looking for a concrete statement, like, "I want to make $50,000 this year writing 20 hours a week so I can leave my day job by December."
Care to share your goals? Do it here. (Note: Research shows writing down your goals makes you twice as likely to succeed!)

Accessing the Writer Within: A 21-Day Journey to Unlocking and Unleashing Your True Writing Potential
With these twice-daily meditations for writers, you'll immediately start to enjoy better creativity, greater productivity, bigger success, and more happiness. Learn More »

Published: February 16, 2015