How to Understand Ryan Deiss's 5-Part Sales Machine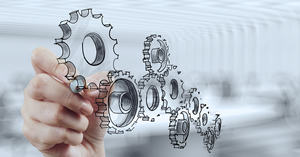 All this week at the Web Intensive, we've been learning about how to build great websites, write great web content, present that content in the best possible way, and then go out and maximize Google's opinion of the web writing you do for your clients.
The last task? Turning all this knowledge into money … for you and your future clients.
That's one of Ryan Deiss's great talents – using smart web writing to create great wealth for himself and the companies he works with.
How does he do it? It turns out, he's taken all the emails he's sent over the years (more than a billion!) and all his sales across all his businesses (more than 30!) and boiled it down to a system he calls "The Invisible Sales Machine."
This machine has five main parts, which Ryan broke down for us in great depth …
But he didn't just talk about them. He literally handed them over, complete with templates we could copy. Right there in the session!
Attendees went crazy for that … and Ryan says clients go crazy for this sales machine, too. They'll gladly pay for you to put it in place for them … and pay you to write all the emails and content needed, too.
And right here, right now, I'll reveal the five core elements of Ryan's system that we covered in his session.
Part 1: The "Indoctrination"
Typically when you sign up for a special report or a newsletter, you receive some sort of welcome email …
It's a fairly common practice, but there's a huge opportunity for you to turn your client's traditional "welcome email" into a whole lot more.
By creating an "indoctrination" email sequence, you can help new readers get to know your client's company, get them connected on social media, and let readers know what they can expect from the relationship.
Part 2: Engagement
The engagement part of the process builds the relationship with a new reader by continuing to talk to him about the thing that interested him enough to join your client's list.
Maybe it was a special report, or a webinar, or a training video …
Whatever the "thing" he signed up for was about, your job here is to engage the reader on a deeper level by telling him even more about it, and offering relevant products and services for him to buy.
Ryan presented several different ways to do this, including a great 7-day email sequence for us to copy.
But it doesn't end there …
Part 3: Ascension
In the ascension phase, you offer buyers additional products related to their original purchases.
For example, someone who was interested in travel writing might also be interested in a product about getting insider deals on cruises and first-class plane tickets, or in a webinar on building better connections with glossy magazine editors.
Part 4: Segmentation
Ryan firmly believes that one of the two biggest mistakes a marketer can make – EVER – is to email everyone on his list the exact same thing.
To avoid this, encourage your clients to mail people with different interests different kinds of things. Buyers should get different things than non-buyers, and new arrivals something different than long-time customers.
This is known as segmentation, and the magic of email technology makes it very easy to segment email lists. (Of course, you don't need to know how to do this part – you just need to recommend it to your clients, because they have the tools to do this … really!)
More segmentation means more email copy will be needed from you …
So, by simply suggesting clients do something proven to increase response and revenue, you also increase your number of projects from every client you take on!
Talk about a win-win-win …
Your client's customers will feel well-served by getting targeted and relevant information, and you and your clients will make a lot more money.
Part 5: Re-engagement
Sometimes, people lose interest or get distracted by life. And they don't open emails from your client any more …
That's when it's time to get them interested back in what your client has to offer – or confirm they're done and have moved on to other things.
To do this, you send them the best material again, as a reminder.
If they don't respond, it's time to remove them from the list. After all, if they're not clicking … not reading … and not responding in any way, then you don't want to focus on them – you want to focus on your client's best customers instead.
So, there you have it – a complete system for making money with email, based on proven research and testing.
Now, how can you find your first opportunity to use it? Turns out, it could be right under your nose …
Ryan says many companies do no customer follow-up whatsoever. In other words, they never turn on his machine … and, as a result, they may be losing as much as a 50% increase in sales.
Companies with no follow-up will pay you to do it for them. And, even companies with some follow-up in place will pay you to improve their systems for them.
So, start finding those pools of opportunity! Pick a handful of websites that offer you the chance to sign up or buy something from them. Sign up for what they offer, and see what they send you. (If you already receive newsletters from them, sign up again using a different email.)
Study the welcome email you receive, if you receive any immediate welcome at all. See if you can find the pieces of Ryan's system in place … or, see if you've found a huge opportunity to be paid to help this company put such a system in place.
Let me know what you find in the comments. And then, use what you've found to launch a new, highly profitable chapter in your web writing career.
I look forward to hearing about your success! After all, while the Web Intensive may be over, your career as a well-paid web writer is just getting started.

The Professional Writers' Alliance
At last, a professional organization that caters to the needs of direct-response industry writers. Find out how membership can change the course of your career. Learn More »

Published: February 13, 2015