Tap Into the Power of Self-Delusion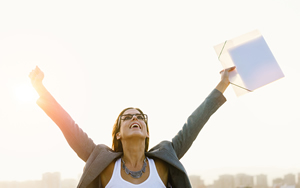 This is the third article in a series of five.
In the first I wrote about the power of good luck in the lives of freelancers.
In the second I wrote about how the key to catching a lucky break is being ready and prepared.
Today we're going to look at the inner game.
This is still about preparation. But instead of making yourself look good and professional on the outside, it's about doing the same for yourself on the inside.
You have to feel ready and powerful on the inside. You have to feel confident.
Or, at least put on a good show of feeling confident.
If your self-confidence is low, you stand very little chance of enjoying the benefits of good luck.
When you lack self-confidence, you think stuff like, "I'm not ready. I'm not good enough. I can't do this." And when those thoughts fill your mind, you'll never have the courage to reach out for the best opportunities.
So … how do you build your self-confidence?
Step one is to understand that your peers and colleagues are probably not nearly as good as you think they are. They just present themselves as being really good.
On my own site I list some of the big, well-known clients I've worked with. I don't list the small, unknown ones. I write about my successes. I don't write about my many failures. And so on.
In other words, I present the best version of myself. I have a strong outer game.
This doesn't mean I'm incredibly good at what I do, all of the time. I just make it look that way. And other copywriters do the same.
So, don't look at what other people do and think, "Wow, they're amazing. I'll never be that good." Don't be fooled by their outer game.
Honestly, if you have taken some training as a copywriter with AWAI, you're already up among the top 10% of all professional copywriters in terms of knowledge and ability.
You're already good, right now. You're definitely good enough to stand tall and grab yourself some good luck.
Next, you need to do what I've done for over three decades …
Tap into the power of self-delusion. Fake it until you make it.
Even when I was just starting out, and really knew nothing, I persuaded myself that I was a copywriting superstar. I wasn't. It was pure self-delusion. (Actually, it was acting. I acted the role of someone who was already a lot more knowledgeable and successful.)
It really worked for me, and it still does.
Like I said, fake it until you make it.
Let me give you an example of how this can work. I did some coaching work with a freelancer a few years ago. She had a solid professional background and good writing skills. But she simply didn't believe in herself as a freelance writer.
She tried to live the writer's life, sitting in her jammies at the keyboard, but blew it every time when talking with prospective clients and negotiating fees.
I suggested she "fake it" by getting dressed up each day in her business clothes instead of her jammies.
Within a week everything had changed. She told me that the act of getting dressed in business attire each morning put her in a more professional mindset, and utterly changed how she dealt with her prospects and clients.
She "faked" being super-confident by wearing the clothes she used to get dressed up in during her corporate career.
That simple change made all the difference.
Act the part of a successful copywriter, and luck will follow you.
Finally, understand that you have the power to do this. You absolutely can change your own perception of yourself. You can change your inner game. It's down to you.
Remember Shelley from the first article?
Here's an excerpt from something she wrote after our impromptu coaching experience together …
"He told me I needed to put on my big girl pants and deal with whatever I needed to deal with, so I could reposition myself and achieve my goals. He said bluntly, 'The only one holding you back is you.'"
Play a strong inner game, and you'll be ready to grab hold of the very best opportunities.
You'll become lucky overnight.
In the next article we're going to look a little more closely at how you present yourself to your prospects. How you combine self-confidence and a good-looking website (inner game + outer game) to deliver an irresistible message to your prospective clients.

Marketing Confidence: Learn to Love Marketing Your Business
Learn to love marketing your business, and start landing the clients you need to reach your financial goals. Learn More »

Published: February 4, 2015