The Process to Keep You on Track, Even When You Go Off Track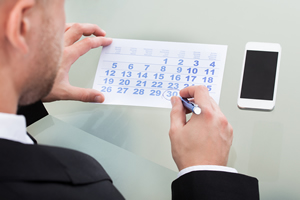 Welcome to the last day of examining how The Seinfeld Method can help you achieve your copywriting goals.
The beauty of The Seinfeld Method is that it's a process and a schedule … one you can look at and reflect on every day.
What's the objective of The Seinfeld Method?
Don't break the chain.
But, what happens if you do break the chain? How can you get back on track without getting discouraged or feeling like you've failed?
Here's what I did to enhance The Seinfeld Method, so you stay on track and won't feel like giving up, even when you break the chain …
Once you've got the at-a-glance, year-long calendar positioned prominently on your wall – choose a color you want to make your chain X with that represents you've completed your daily action task. I use black.
I use a red marker to X the days that I don't take action, but only when I completely flake … when I don't have a legitimate reason why I didn't do my task …
By the way, "because I just don't feel like it" is NOT a legitimate reason. I love this quote from novelist, Peter DeVries, to support my point …
"I write when I'm inspired, and I see to it that I'm inspired at nine o'clock every morning."
I use a blue marker to X the days that I have a legitimate reason why I didn't do my task. Then, I actually write the reason next to the X. It would look something like this …
X – pipe broke, flooded floors, disaster
X – sick, only left bed to run to bathroom
X – promise to boys and Lisa, only focus on them today
Only you can set the parameters of what a legitimate reason is in your life. I set mine fairly tight … but I'm also reasonable, and I truthfully hold myself accountable.
If you want to get really serious, make a list of what exactly your legitimate reasons are going to be and give them to someone who will hold you accountable to those reasons only.
Using different colored Xs is really a mental process …
When you see the long chain of black Xs, you build self-confidence, momentum and the feeling of accomplishment …
A red X reminds you to recommit, to focus on self-discipline, and to prioritize so you can achieve the task at hand …
A blue X allows you flexibility when legitimate things do come up. And, it allows you to get back on track faster, without discouragement or feeling like you want to quit because you've "missed" so many days.
And, there you have it …
"Not breaking the chain" is really about consistency. About creating a writing habit where you keep getting better and better … because mastery follows consistency.
Okay … let's put Seinfeld's method all together …
You've got your year-at-a-glance calendar on the wall where you can see it every day … and you've got some colored markers …
You've identified an action that you will be taking every day and mark a big X on the calendar when you take that action. Remember to make the task reasonable, so you can do it every day.
If your task is writing, you're not going to worry about getting it right, you're just going to get it written.
You're going to focus on the process – not the goal. When you focus on the process, you don't get overwhelmed with the goal, and you enjoy the journey on the way to achieving that goal.
According to Forbes magazine, in 2004 Jerry Seinfeld's annual earnings from the Seinfeld TV series was $267 million. Yes, annual.
All of Seinfeld's comedic success was built on one simple and consistent process – with a focus on not breaking that process … which ultimately led him to realize his dream.
I'd love to hear your thoughts on The Seinfeld Method and if you're planning on using it to help you achieve your goals. Please feel free to share in the comments.
I hope my sharing The Seinfeld Method with you this week will give you a process you can use to realize your dreams!
Till next time …

The Professional Writers' Alliance
At last, a professional organization that caters to the needs of direct-response industry writers. Find out how membership can change the course of your career. Learn More »

Published: February 27, 2015