Turn Goals Into Action With This Tool Endorsed by Matt Damon and Mozart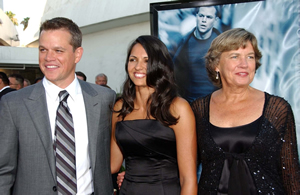 We've been talking about mindfulness and meditation as a way to reclaim your excitement to push the reset button on your New Year's goals and resolutions.
But, as someone asked me after reading yesterday's email … where does hypnosis fit into all of this?
Listen, I'm a huge fan of self-hypnosis. I used it to have pain-free births for each of my three kids – with zero medicine. But I'll admit, the thought, "This better work or I will die" crossed my mind the first time I tried it.
When you're sitting alone in your writing space, staring at your blinking cursor, it's a lot harder to drum up that kind of urgency. Which means to make self-hypnosis work for you, you need to understand how and why it works.
First, understand what self-hypnosis is not. It's not mind control, or brain washing. You're not unconscious or asleep or altered in a peculiar or mystical way.
Self-hypnosis is really more about awareness and control. It gives you keen focus on specific things, while remaining in a relaxed state.
Self-hypnosis is especially relevant to writers like us who want to make sure our goals for the year don't fall by the wayside. Why? Because self-hypnosis is a powerful way to change behaviors and attitudes. For example:
Self-hypnosis is how Matt Damon finally quit smoking.
James Earl Jones used hypnosis to overcome stuttering.
Right before winning the gold medal for gymnastics, Mary Lou Retton used hypnosis to block pain in her foot.
Mozart composed the famous opera Cosi Fan Tutte while hypnotized.
Princess Diana used hypnosis for public speaking and confidence.
Sylvester Stallone used it to help him write the script for Rocky. He also used daily hypnosis to overcome the 900+ rejections he got on that script.
It's safe to say that, if you're open to it … hypnosis works wonders. And today, I want to show you how self-hypnosis can help you take action on your writing goals.
Follow these steps:
Get motivated. Write down every step you need to take to achieve the specific goal you've made. Visualize your end-goal.
Relax. Get rid of all distractions. Loosen your belt. Keep your arms and feet uncrossed. Take deep breaths.
Concentrate. Energy is created every time your mind focuses on a single image. If your worries filter in, picture them floating away from you like a balloon.
Direct your attention. This is where you work on a specific goal. Concentrate. Visualize the result you want. Silently repeat to yourself a mantra of the thing you most want to have happen. Make sure it's phrased positively, and in the present tense. Say, "I take action with ease and expertise," instead of, "I will stop procrastinating on my writing projects!"
If you're new to self-hypnosis or you find it challenging, consult a hypnotherapist. Or try Dr. Annette Annechild's Accessing the Writer Within meditation program – she has a similar process.
Tomorrow, I'll wrap up the Resolution Reset Process by showing you how to bring all of these tools together. And then, I'll give you a free pass to a new start … stay tuned! (Thoughts? Questions? Please share them here.)

Accessing the Writer Within: A 21-Day Journey to Unlocking and Unleashing Your True Writing Potential
With these twice-daily meditations for writers, you'll immediately start to enjoy better creativity, greater productivity, bigger success, and more happiness. Learn More »

Published: February 19, 2015