Who Do You Believe? And Why?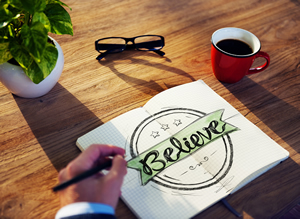 Have you ever sat on a jury?
I was on one not too long ago. When I was finished, I realized something I hadn't known before. Jurors are a lot like the prospects you write to in direct marketing.
They're bombarded by tons of information, some of it good, some of it not so good … just like your prospect.
Jurors have to weed out what's important to their decision and what isn't … just like your prospect does when he reads the promo.
And, here's the crucial similarity for you as a copywriter: Jurors and prospects have to decide who and what to believe.
The success of every bit of promotional copy depends on how believable your words are. But, what makes the words you write believable?
3,000-year-old secret to believability …
Your writing is more believable when you use specifics. Here's what Elements of Style—the classic book on effective writing by Strunk and White—has to say about using specifics …
[T]he surest way to arouse and hold the attention of the reader is by being specific, definite, and concrete. The greatest writers—Homer, Dante, Shakespeare—are effective largely because they deal in particulars and report the details that matter.
Should you use specifics because Strunk and White tell you to? Because Shakespeare used specifics 500 years ago? Because Homer used specifics 3,000 years ago?
No. You use specifics because our brains are wired to believe specifics and to discount generalities. And, that's not just opinion. This claim is backed up by solid research.
Believability on trial …
Since the early 1980s, Psychologists Elizabeth Loftus and Brad Bell (and others) have studied how specific details increase believability.
They set up mock trials and studied what makes eyewitness testimony believable. They found that the more specific the description of details, the more believable the testimony.
And, this relationship between specific details and credibility is not necessarily dependent on the details being true. Simply providing details adds credibility to assertions.
You've seen this "belief based on details" at work with urban legends that flourish on the Internet. You may remember hearing about alligators lurking in sewer systems … razor blade-embedded apples … or cell phones causing explosions at gas stations.
Two other professors—Stefano Grazioli and Ronald Carrel—presented a paper at the 2002 Eighth Americas Conference on Information Systems explaining why these untrue urban legends stick.
" … targets of deceptive messages judge lower-precision [fewer specific details] messages to be untruthful, and that some (but not all) targets use higher precision as a proxy for truth."
In other words, the fewer the details, the less believable the writing. This is great when we're talking about mock trials and urban legends. But, does specificity really have anything to do with marketing?
Out of the lab and into the marketplace …
Here's what pioneering master marketer Claude Hopkins said in Scientific Advertising in 1923 …
Platitudes and generalities roll off the human understanding like water from a duck. They leave no impression whatever … They suggest looseness of expression, a tendency to exaggerate, a careless truth. They lead readers to discount all the statements that you make.
Definite, specific statements signal your reader you know what you're talking about, that you've done your research. Specific numbers (23.4% instead of more than 20%) and specific descriptions ("blue and yellow striped Brooks Brothers silk tie" instead of "colorful tie") alert your reader that he can trust what you're telling him.
You have precise information that supports what you're asking him to do. This can satisfy his rational mind while at the same time appealing to his emotional side. Specificity allows him to experience what you're telling him almost visually.
While specificity appeals to your reader's rational mind, it's also a valuable tool for appealing directly to your reader's heart.
Compare the following two writing samples about Covenant House, an organization that works with homeless and abused youth.
You see them on the street as you drive through the seedier parts of town. Or when you walk by parks or all-night, fast food restaurants. Homeless teens, seemingly without direction or purpose. Covenant House works directly with these young people, helping them get off the streets … helping them turn away from the lives of drugs, crime, and prostitution they live to support themselves and numb the pain they feel every day. [Written specifically for this example]
These words certainly do appeal to the reader's emotions. But look at the next sample about James and decide which of the two samples truly touches your emotional core.
I'm writing to you from our shelter tonight. From the corner I can see James, just 16, sleeping on a fresh cot we set up in the chapel. Covenant House is full. Every bed is taken. I don't always know how we make room for all these kids, but by the grace of God, tonight we found a way again.

James came to us tonight, exhausted, his eyelids barely able to stay open. He'd been trying to sleep near restaurant dumpsters, in the bus station, on park benches. He'd rested his head on tables at 24‑hour donut shops, under the fluorescent lights, desperate for a safe, quiet place to sleep. [Taken from the Covenant House website]
Not much of a choice, is there? The power of the latter sample comes from two factors. First, stories have power to touch deep, emotional places within us.
Second, this bit of writing stirs emotions with specific details. Not a homeless youth, but "James." James is not just a teenager; he is "just 16." He sleeps in the chapel, on a cot. But he sleeps safely there, not in dumpsters, bus stations, or donut shops.
If you want your copy to be effective—to get your prospect to act—you must appeal to the emotions. Using specific details paints images that touch the heart.
Specific details are a necessity if you want your prospect's rational mind to believe you … and to let you take him where his heart is pulling.

The Professional Writers' Alliance
At last, a professional organization that caters to the needs of direct-response industry writers. Find out how membership can change the course of your career. Learn More »

Published: February 9, 2015