Getting Repeat Clients: Your Project is Done. Now What?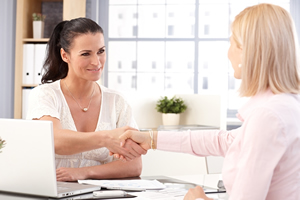 Let me tell you a story about two writers.
The first writer, let's call her Marsha. She's a good writer. She's easy to work with. She delivers on time. And her clients give her good feedback. But after she does one or two projects with them, they just kind of … disappear.
That has Marsha feeling frustrated. Her business is in a rut. She markets herself consistently, but she has to dedicate 25% or more of her time to marketing or else her income dips. That means she has to work a 40-hour week to stay afloat. She wants to work less, but she's resigned herself to the idea that it's just not going to happen.
The second writer, let's call her Tiffany. Like Marsha, Tiffany's a good writer. She's easy to work with, delivers on time, and gets good feedback from her clients.
The difference is, Tiffany's clients hire her again and again and again. She usually works with four or five clients in a year, doing several projects for each. Her income is quite a bit higher than Marsha's, even though she works fewer hours each week. Plus, she spends less than 20% of her time on marketing.
For Tiffany, because of her repeat clients, things are great and they're getting better.
So what's the difference? Why is it that some writers work harder but don't get ahead, despite turning out good quality writing and being easy to work with?
I've invented Marsha and Tiffany to illustrate a point. But I've known many writers who fit one of these descriptions or the other. I've actually fit each description at different points in my writing career.
So today, I'm going to share with you the biggest secret of the "Tiffanies" of the world … so you can build a web-writing business that truly supports the lifestyle you desire.
The secret is actually easy … but first, let's talk about why it matters …
Why Repeat Clients Are Important to Your Web-Writing Success
It takes a lot of work to land a client. You have to introduce yourself. Build a relationship. Teach them to trust you. And then offer something of value at a time when they are open to hearing it.
So, why would you invest all that time and energy and goodwill and then just do one project with that client? If you counted the hours it takes you to land a client as part of the time you put into the project, how would that affect your hourly rate?
When you think of it that way, it's a pretty dismal picture if you only do one project with them.
But if you do several projects with them over the course of months or even years, suddenly all those marketing hours are looking like a pretty sweet investment.
Most writers don't set out to have single-project clients. Like Marsha, they are just missing a critical step to converting first-time or occasional clients into repeat, steady clients.
It's actually just a simple mistake. They assume, when it comes to landing repeat assignments, that the client is in control.
But you can — and should — be in the driver's seat. You just have to do a few basic things when you complete each project.
And that's the secret. It's all in the follow-up.
What You Do After You Turn Work Into a Client Will Determine How Strong Your Business Is
Here's what you need to do …
First, check your work.
Clients appreciate good attention to detail. They want to see that not only have you put your best effort into writing great copy, but that you've also taken the time to review it and make it error free.
The best way to become an expert proofer is to:
Build a couple of extra days into your timeline. When you complete the project — drafting, revisions, and a first round of edits — set it aside and don't look at it for a day or two. Then read it through with fresh eyes.
Read your work slowly and out loud, paying attention to each word.
If errors are still getting through, read your work sentence-by-sentence from the back to the front.
In addition to turning in polished copy, pay attention to the formatting and fonts your client uses. If they've sent you any documents, mirror their choices.
I once had a client tell me that she hated the font I used. The first thing she did whenever she opened one of my documents was highlight everything and switch it over to her favorite font.
After that, I always submitted work in her font. I was pretty unnerved by the idea that her first gut reaction to everything I was submitting was negative. I couldn't help but wonder if it influenced how she felt about the actual writing, even if she didn't realize it.
Next, solicit feedback.
When you send your work over to your client, don't assume that you're done. Let him know about any concerns you have or any specific areas you'd like to get feedback on. And make sure you state clearly that you would like his feedback and that you are happy to discuss and make any changes he feels are necessary.
This shows you are easy to work with. It also gives your client a clear signal that you consider feedback part of the process — you're not going to be hurt if he wants to see some changes. That can be a big deal for a client. If he feels like you'll take it personally when he offers criticism, then he might just skip that step, make the edits he wants, and move on to the next writer.
After that, mark your calendar.
Set a reminder to follow-up with your client. There are two kinds of follow up that you want to do.
First, if you don't hear back from her that she's received your work, you want to check with her in a day or two to confirm she got it. In that same vein, you want to check-in with her after a few days to see if she has any comments on what you've written and if she'd like to have a call to discuss it. Your goal is to make sure the copy is what the client wanted, and ready to go into production.
The second kind of follow up is after the copy has been launched. This step is equally important, but often skipped. Based on what you know about the project, estimate when your work will deploy and how long it will be before your client has an idea of the results. Follow-up then to find out how well the piece is performing.
If the client is thrilled, get a testimonial right then and there.
If the client is underwhelmed, look for a way to fix things. Review how the piece has been delivered to the audience and see if you can come up with a few easy ideas to improve performance. (You will build amazing goodwill when you make this effort!)
Then, start your idea machine.
The project is done. The client is happy because you've made absolutely sure he has no reason not to be.
Set aside an hour and brainstorm on behalf of your client. Come up with two or three high-value ideas that will help the client further build his bottom line.
Finally, send off your next pitch.
Once you have a few great ideas for your client, put together a brief email and let her know about them.
Keep the email on the short side. If your ideas are more complex, then send only the strongest and provide bullet points regarding the execution and the benefit. If your ideas are simple, then you can put them all into a single email.
Let the client know you're happy to talk through the details if she'd like to schedule a call or that you can put together a full proposal if she'd prefer that.
You won't land every project you pitch. But by sending ideas to your existing clients, you create a lot of advantages:
It's an email that the client is almost certain to open because she knows you.
The client already knows, likes, and trusts you and is familiar with your work.
If the client has another copy need at that moment — unrelated to your pitch — she might ask you to handle it.
Even if the client turns down your ideas, you've shown an interest in her business success — that means something.
You'll stay top of mind, increasing the potential for future project work.
The best business owners and marketers are idea people and they appreciate idea people. You've confirmed you are someone they should appreciate.
Make a habit of good follow up after a project and of generating and sending off ideas to the clients you have recently worked with, and you will find that your business grows faster, that you are landing higher-value projects, that you can work fewer hours, and that your marketing — which you should always put aside some time for, even when you're busy — requires fewer hours to get better results.
That's the simple secret between freelance writers who are struggling to stay booked and feel like their business is running them, and those who are turning work away and know they are firmly at the helm.
So which one do you want to be?
This article, Getting Repeat Clients: Your Project is Done. Now What?, was originally published by Wealthy Web Writer.

The Professional Writers' Alliance
At last, a professional organization that caters to the needs of direct-response industry writers. Find out how membership can change the course of your career. Learn More »

Published: February 18, 2015