5 Reasons Web Writers Have More Fun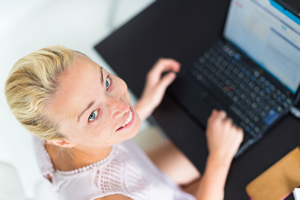 The rise of the Internet set the world of marketing on its head.
Once businesses understood the power and reach of online marketing — not to mention the unprecedented access to data about their audiences — there was no going back.
Internet marketing started a meteoric rise. It's overtaken print marketing in terms of what businesses spend, and by 2018, it will eclipse TV advertising, too.
With the rise of this new marketing medium came a tremendous opportunity for copywriters … an opportunity that is still growing and expanding to this day.
But the rules changed. The way you write for traditional media doesn't work well on the Web.
Change is always a little scary at first, and many businesses resisted the new way of doing things. (The good news is they're coming around, which means even more opportunity for you!)
While businesses may have fought changing the way they do things at first, the writers who embraced the Web were much faster to get on board, often pushing the change forward.
One of the reasons that writers embraced the changes demanded by the Web is because when you do it right, web writing is not only more effective … it's a whole lot more fun.
Adding Spice to The Writer's Life
This is reason number one that writing for the Web is simply more fun than writing for print. There are just more kinds of projects to tackle.
Before the Internet, as a freelance copywriter, you would work on direct-marketing packages — which some people love to write, and some people don't. Or you would work on brochures. Or a few other types of projects.
But as a web writer, the types of things your clients need written have exploded.
Companies marketing online need:
Tip sheets
Videos
Infographics
Slide shows
Social media updates
Web pages
Landing pages
PPC ads
Blog posts
Email promotions
Autoresponders
White Papers
Case Studies
Podcasts
Webinars
Sales Pages
Special reports
Case studies
Tutorials
And more
Anyone who loves writing is certain to find something on that list they particularly enjoy. Probably several things. So no matter what interests you — or if you're one of those who needs to switch gears from time to time to keep your energy up and your work fresh — web writing has something to offer you that you'll have fun with.
Instant Gratification
Back in the days before the Internet, the process would go something like this …
You'd write a sales package. After it was complete, it would spend some time in production. Then it would be sent off through the mail to thousands of potential customers. The orders would start trickling in. Hopefully the trickle would increase to a flood.
And after several weeks or even months, you'd know if what you'd written was a success or not. But you wouldn't know exactly why. Not really.
Now, you can write a similar direct-response package, send it out to your email list in the morning, and know whether or not you've succeeded by lunchtime.
Plus, you can get an immense amount of data about your reader, including how long they spent reading your promotion and which links they clicked. And with advances in testing, you can also know by your lunch hour which subject line, headline, offer, or whatever worked best.
Writing for the Web gives you nearly instant feedback on what you're doing. Which means you can improve your skills quite a lot faster. Fun, right?
Writing as Part of a Community
In direct-response print and broadcast marketing, you write conversationally. That's key. But you're not really having a conversation because there's no real opportunity for your audience to respond.
They either buy or they don't buy. Maybe they send in a letter with some comments about your company or your product.
But by the time they do any of that, you're on to the next project.
But now … with web writing, you have comments and social media and instant messaging and email and online surveys. You have a chance to hear from readers much faster and to integrate what your hear and your responses to it into your writing in a timely way.
It makes marketing much more dynamic. It gives you a real sense of being in it together with your readers. Definitely more fun.
Total Transparency
If there's one thing that online marketing requires that companies are still pushing back against, it's this. Total transparency.
There's no hiding on the Internet. Word gets out. If you have poor customer service, people hear about it. If you blunder, it gets around.
But here's why this is more fun …
When you embrace the total transparency, it gives you incentive to develop a voice that is unique and personal and authentic for the company you are writing for. People want companies to be made up of real people, and you as the writer, get the chance to show your readers that's true.
This creates an environment where you can develop deeper connections between companies and their customers. And that raises the bar of company behavior.
It doesn't allow for shortcuts, but it does make things more fun for you as a writer because there's no question about being honest. No question about embracing integrity. And you're encouraged to be real.
So when a client tries to get you to write in corporate speak, you can push back and quickly explain why that won't work on the Internet.
Living on the Cutting-Edge
In the last year … .
Mr. Kipling, a cake company in the UK, combined traditional marketing and experiential marketing when they created an edible billboard made up almost entirely of their pastries …
Chipotle combined online video with mobile marketing and mobile gaming to create a campaign that successfully set them apart as a healthier, more sustainable alternative to traditional fast food …
Oreo used Vine to sell more cookies in their Oreo Snack Hacks campaign. These user-generated, six-second videos show different ways to enjoy Oreos. Challenging and fun and good for sales.
These campaigns are all made possible or enjoyed the success they did because of the Internet. And they all needed web writers to pull them off.
So you get to be a part of this. That's a lot of fun, you know, to try new things, to come up with a crazy idea and have the opportunity to implement it. This is the kind of environment where you can make marketing history, which can solidify your writing career for the next two decades or more.
And I can't imagine anything more fun than that.
This article, 5 Reasons Web Writers Have More Fun, was originally published by Wealthy Web Writer.

The Professional Writers' Alliance
At last, a professional organization that caters to the needs of direct-response industry writers. Find out how membership can change the course of your career. Learn More »

Published: March 11, 2015