How to Be Sure You're Offering Clients What They Want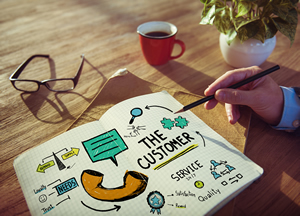 Hello, again!
You know what I think one of the best feelings in the world is?
It is hope!
I mean real hope. Hope, based on facts and reality. Proof that you CAN, in fact, see your dreams come true.
That hope comes from having a clear, simple, realistic plan.
The first step in your plan for success is, as I said yesterday, choosing a niche. (Remember I gave you a very simple exercise to help you make the decision!)
Now that you've got that and you know who you'll be talking with, it's time to figure out what you're going to say.
Step Two: Decide what you're going to offer.
To understand the importance of your offer, I'll tell you a story. I stole this from the speech, "Acres of Diamonds," given back in 1882 by Russell Conwell …
In the mid-1800s, A.T. Stewart was considered the richest man in America. But he didn't start out that way. He was very poor as a boy.
By hard work, he managed to save up $1.50 … which was a lot of money back then, especially for a poor boy. He wanted to be a merchant, so he used $0.87 to buy needles, thread and some buttons. His plan was to sell it for a profit.
Instead of making a profit, he sold nothing and was left with stuff that was useless to him … and apparently everyone else.
He learned a valuable lesson … you can only sell things that people are buying.
For the next few days he went around asking the women of New York what they actually wanted. They told him. With his remaining $0.63, he bought things he knew were in demand.
This time the selling was easy. He made a handsome profit and went on to become the richest man in America, building his entire empire on the concept of "known demand."
I hope you can see how this applies to you.
You are a copywriter.
You have a target audience: Your niche is: _______. (You chose that yesterday, right?)
But, what do marketers in your niche want? What kinds of copywriting services do they need?
That's surprisingly easy to answer.
Let me show you the big mistake most new writers make, so you can avoid it …
Let's assume someone wants to be a web copywriter, specializing in emails and focusing on the pet industry.
They think, "I'll find the potential clients that have terrible websites and don't send out any emails. They need it so bad, I'm sure they'll hire me."
With that thought in mind, they go out and offer email writing services … and, like the young A.T. Stewart, they come home with frustrated hearts and empty bank accounts.
The problem? They talked to people who don't have a "known demand."
The owners of those pet businesses don't "get it." They don't know how valuable email marketing is. Being ignorant to the value, they don't feel like they need or want it.
And (listen to this part closely), you're not likely to educate them. You don't have enough time or money to make email converts out of them.
Find the low-hanging fruit! Find the pet-business owners that already use email marketing and are hungry to make it better.
These people have a "known demand." They already know about email and how valuable it is … they're looking to make it better. And, that's where you come in.
See how that works?
Offer marketers in your niche something they really want.
How do you know what they want?
Look for what they're already doing … and help them do it better, faster, and more profitably.
Here are three things you can do to make this process very simple:
Sit down and make a list of all the copywriting services you can offer. (Hint: If you don't know, look through AWAI's catalog of products. That'll help you see what others are offering.)
Read over 20 websites in your industry. Look for companies that are already using the kind of copy services you offer. For example, are they using … sales letters, blogs, social media, email marketing, opt-in forms, special reports, videos, etc.
Make a note of the most-used copywriting services in your chosen niche. Review your list of services, put a star by the most in-demand services, and decide how much you'll charge for those services.
Can you see what you've just done?
You've made a list of "known demand" services!
At this point, you have:
A group of people to talk to (your niche).
A list of "known demand" services to sell to these people.
Now that you know who to talk to and what to talk with them about … how are you going to do it?
Just how are you going to approach marketers and convince them to hire you?
That's the next step. Tomorrow, I'll tell you all about it …
Until then, set aside some time to review those 20 websites and make your list of "known demand" services. It's the foundation of a great lifestyle and you'll enjoy doing it …

The Professional Writers' Alliance
At last, a professional organization that caters to the needs of direct-response industry writers. Find out how membership can change the course of your career. Learn More »

Published: March 3, 2015