Clayton Makepeace to Host Financial Writing Workshop

I'm not sure who's more excited about Clayton Makepeace's three-day "Brain Dump" on how to create power controls for financial publishers he's hosting in Atlanta this May …
Clayton, his Facebook friends or I!
It's going to be million-dollar training …
And, as he puts it:
"This is the single most lucrative niche to write for (it has paid me well over $25 million since 1995 alone). This is the ONLY time I will ever do this kind of exhaustive brain dump. And – trust me – we're going to have a ball."
The only issue is that he's been talking about it on Facebook before we've even opened up registration …
Our Member Services team has been signing people up the "old-fashioned way" … by phone! (866-879-2924)
Now there's a very good chance this could sell out before we even get a chance to officially launch it, so I've pasted his latest post about it below.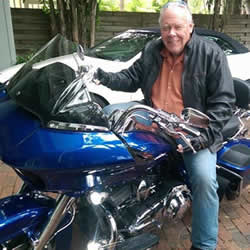 This seminar stuff is HARD!

You guys are going to just show up on May 13 and drink from a fire hose for three days (and from the bar for three nights).

For me, it began two weeks ago; trying to shoehorn 42 years of glorious direct-response victories (and humiliating, painful spankings) into a brain-melting transformative experience for you. And at this point, it's clear that preparing this thing is going to be a full-time job for the next two months.

I'm not complaining – it'll be worth it to see a bunch of you hit the big time with income over a million bucks a year – just like so many of my previous protégés have.

So here's the update …

For starters, I'm going to show you how to create the four major types of financial sales promotions. (Promotions I affectionately refer to as … the "Edgar Cayce" … The "Sherlock Holmes" … The "Nikola Tesla" … and the "George Soros" aka "The Greedy Bastard.")

I'm also going to help you master the 12 "seductions" you must perfect before entering high-response heaven.

And I'm going to name the seven dumbest, deadliest blunders any financial copywriter can possibly commit (believe me; I've made 'em all. More than once!)

There's more you need, of course – so it's a good thing I'm bringing help!

In fact, I've got …

David freakin' Deutsch (legendary copywriter; one of Boardroom's "Titans of Direct Response") …
Marcella Allison (copywriting mastermind behind Bernie Schaeffer and Motley Fool among others) …
Robert Henderson (veteran DM pro who wrote the "Supernet" piece that mailed for three years for Weiss Research among many other things) …
Brad Petersen, (Jay Abraham's secret weapon for years – mine, too) …
Guillermo Rubio (so good at what he does, I personally hired him to work with me at Weiss), and …
The lovely Lori Haller (goddess of direct-response design, who will help you make sure your timeless prose gets attention, gets read and gets you beaucoup royalties.)

Financial publishers practically get into fistfights over who gets to hire these superstars next.

They're so good at what they do, they could easily turn my little dog Rocky into a world-class copywriter.

Plus, in addition to three days of instructional sessions, there will also be three hot seat sessions. So if you've been just dyin' to get your precious copy gleefully torn to shreds by some of the best in the business … BRING IT!

PLUS, I'm going to introduce you to (and make sure your work gets seen by) a mob of the hungriest clients on the planet: Folks from Oxford Club, Street Authority, Stansberry & Associates, Common Sense Publishing, Eagle Financial, Money Map Press, NetEffects, Weiss Research and others.

So if you want to come, it might be a good idea to call Leah at 866-879-2924 during office hours.

Only 50 seats are available and I understand that quite a few of them have already been snapped up by my Facebook friends.

Now, they're getting ready to open enrollment, so … chop, chop!

The Professional Writers' Alliance
At last, a professional organization that caters to the needs of direct-response industry writers. Find out how membership can change the course of your career. Learn More »

Published: March 12, 2015