Good Ideas in Your Ears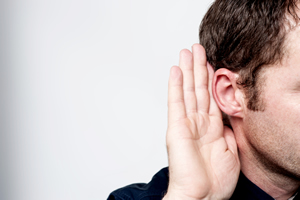 Where can you find good ideas for your writing?
If you're open to them, you can find good ideas almost anywhere.
All you have to do is use your eyes and your ears.
Driving to the Wellness Center …
Linda and I live in a rural, mountain community in far northern California.
Even though a major interstate whisks past our town, our ruralness isolates us in many ways. We're an hour from the next real city of 90,000 souls, and the mountains surrounding us limit our radio and TV reception.
TV isn't an issue for Linda and me. We've largely opted out of that productivity sapper. But we can't get AM radio reception in our house, and it's spotty at best when in the car. Because of this, we rely on FM radio to keep us informed and entertained—and mostly NPR.
We don't listen to NPR for any political bias. We get the most consistent reception from it. And it has daylong news and information.
For example, this morning going to the Wellness Center for our daily water aerobics, I heard a story that made me think of you, my readers. The story was a weekly interview with NPR social sciences correspondent Shankar Vedantam. It gave me what might be a good way to formulate an offer in promotional copy.
The gist of the story was that under the right circumstances, not knowing what he will get can be a strong motivator for someone … your prospect, for instance.
Of course, not knowing can't extend to the product or service. Your prospect has to know the promise and the benefits of your product.
But, what about taking advantage of this uncertainty by offering premiums on a lottery basis? This approach seems counterintuitive. And, I'm not exactly sure how I would formulate an offer like this. Or, how I could convince a client to try this.
But, based on the NPR story, this approach might be a unique and effective way to get a prospect to commit. But …
That's not the point …
Here's the point of all this rambling, though. I never would have thought of this approach if I hadn't been listening to the NPR story.
Coming up with this idea exemplifies something I've been saying to Circle of Success members for eight years. Something I included in a number of the COS Intensive classes.
Some of the best places to come up with new ideas for your promotions are long-form news stories. Radio, television, and online.
Not just NPR. Anyplace you can find news and information stories that go beyond 30-second news bites can provide a wealth of ideas for your writing.
Don't let political leanings
deafen you to good ideas …
You could be as liberal as they come. Even so, Fox News would be an ideal place to learn what your best prospects in the financial niche are worried about.
But don't stop there. The Fox News website health section has numerous idea-starters, like: Rooibos wine for health-conscious drinkers. Or, cancer clusters in families. Or, the biggest source of salmonella.
On the other hand, you could be the most conservative person in your state. But, if you stuck up your nose at public radio, you might have missed Shankar Vedantam's story. Or the often touching vignettes from Story Corps.
Looking for more ideas? Visit BBC, Huffington Post, the Drudge Report, The Nation … anything that's well-written and contains thoughtful stories regardless of political slant.
You're not looking for the perfect idea …
Now, don't get me wrong. Most of what you read and listen to won't provide you a direct route to a good idea for a promotion. It was serendipity that I could link the NPR story so directly to what might (and I stress might) be a new approach to an offer.
But, every good idea that falls short is a seed. It falls into place in your brain where ideas ferment and foment. Where they lie hidden until the right circumstances push them to the top and burst upon you in an "Ah-ha moment."
Where do you find good ideas?
Everywhere.
I'll be chatting with you in future issues of The Golden Thread about other places to find good ideas. But until then, remember the secret to becoming a successful writer of any type is …
… to write!

The Professional Writers' Alliance
At last, a professional organization that caters to the needs of direct-response industry writers. Find out how membership can change the course of your career. Learn More »

Published: March 16, 2015