Live: The Barefoot Writer March Issue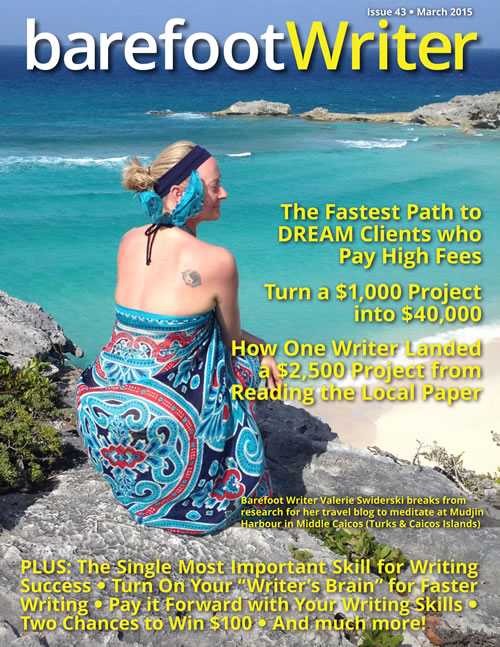 Here's the funny thing about getting paid to write for a living …
You know you'll enjoy it – intuition has told you as much.
There's proof it can be done – you see it every month in our Barefoot Writer profiles of successful writers.
But taking that first step? That's where most of us get tripped up. I certainly did when I started out.
Our goal is to make it as easy as possible for you to take that next step. This month, you'll learn:
Which writing opportunity attracts loads of clients who won't bat an eye at high fees
Why putting your brain in "slow mode" actually speeds up your writing process
How a positive attitude makes it easier to realize goals (not to mention faster!)
The surprising way your local paper can bring you paid writing projects
Why intuition plays such a critical role in getting your writing career launched
When to say "no" to a project (and why)
And much more!
Whether you've always wanted to be a writer and this is simply the most profitable way you've found to do it …
Or whether paid writing is the missing link that connects you to your long-term life goals of deciding how you spend your day …
And don't miss the unbelievably true story of how one man went from borderline-poverty to a life of abundance, including 11 children and an annual writing income of more than $300,000! See page 9.
Click here to read your March issue of Barefoot Writer.
Not a subscriber yet? Click here to learn more about becoming a member of The Barefoot Writer and start living the lifestyle you want by writing.

The Professional Writers' Alliance
At last, a professional organization that caters to the needs of direct-response industry writers. Find out how membership can change the course of your career. Learn More »

Published: March 6, 2015