The "Evolutionary Imperative" for a Great Headline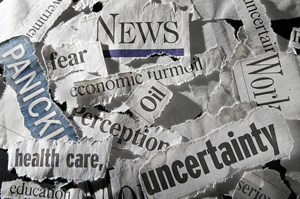 The headline simply read, "HEALTH."
Not much of a headline by most standards, but it caught my attention immediately.
So it worked.
How could such a simple headline get me to stop and read? Let me explain.
I was reading the San Francisco Chronicle with my wife and turned to the center spread of the first section. That single-word headline sat atop what looked to be a new, full-page section in the paper – a section about health.
It was formatted perfectly with five columns and individual articles, each with its own headline. There was even a column with questions to the expert called "Ask Emily."
I am interested in health matters, but that's not why I stopped to look at the section more closely. What made me look is a part of human nature. It's a part that evolved to ensure our survival and growth as humans.
That quality is curiosity.
I studied the new health section because the Chronicle doesn't usually have special sections in this part of the paper. Seeing it there roused my curiosity. Even with the simple one-word headline, I felt compelled to look more.
Then with further reading, I noticed the little, tiny printing at the top of the page that stated, "ADVERTISEMENT."
That, my friend, is an example of rousing curiosity with your headline. The headline and formatting pulled me into an advertisement I might otherwise have ignored.
Curiosity … not confusion
Your headlines must rouse curiosity. But be warned, a fine line separates curiosity from confusion. Or from disinterest.
Curiosity elicits the response, "I want to read more." Confusion gets the response, "I don't really understand. It's confusing. Because of that, I'm not going to read this."
Real curiosity-rousing winners …
Let's look at some classic examples of headlines that stir curiosity and get a good response.
A Mike Palmer headline for True Wealth:
Outlawed for 41 years, now legal again,
this investment launched the largest
family fortune the world has ever seen …
and could return 665% in the next 12 months.
Mike leaves out a lot of details of what he's going to talk about, but he piques the reader's curiosity by providing just enough.
What questions arise for you when you read it? When I first read it, I wondered:
1) What was outlawed for 41 years?
2) What made it illegal?
3) Why is it now legal?
4) What family is he talking about?
5) How does all this impact my own wealth plans? (The most important one.)
Here's another curiosity rouser from Kim Schwalm's headline for Women's Health Letter:
Want to Stop Arthritis Pain?
Stop Taking This
Supplement
Only one question raised: What is this supplement? I might be taking it right now!
Porter Stansberry of Stansberry & Associates provides another curiosity rouser:
There's a New
Railroad Across America
And it's making some
people very rich
In fact, one ex-bond trader with a mixed track record
made $1.8 million per day for 540 straight days
Two questions here:
1) What new railroad? Is he talking about a high-speed rail line or something else?
2) How can this make people (especially me) rich?
If you look at Porter's "Railroad" headline, you can also see how this would have been a far weaker headline if he stopped at the first curiosity part. A Stansberry & Associates prospect who got a mailing that simply said, "There's a new railroad across America," might have had his curiosity piqued, but probably not enough to get him to read the rest of the package.
Some ho-hum examples …
Here are some home-brewed curiosity headlines I wrote so they'd deliberately fall short in other respects:
America's Greatest Investment Opportunity
This wouldn't work, even though it rouses curiosity. Because it's like tons of other headlines financial prospects have seen. Plus, it's not personal.
Another:
Gold Bug Fever!
Investors know what gold bugs are, so this headline might rouse some curiosity. But there's just not enough there to interest the prospect enough to pull him into the package.
While each of these raises questions in the reader's mind, none has enough power to compel the prospect to read more.
The perfect blend …
If you want to rouse curiosity with your headlines, you have to give just enough detail to get your prospect eager to learn more.
The single-word headline that got me writing this Golden Thread relied on the visual detail its formatting provided.
Mike Palmer used dates, numbers, and compelling ideas (for example, "outlawed") – and just enough of them – to stir curiosity.
Porter Stansberry invoked a clever phrase and a few compelling details for his now-classic winning headline.
And Kim Schwalm provoked curiosity by hinting at both a threat … and a solution.
I wish I could give you golden rules for rousing curiosity. There are none.
But as you can see here, curiosity comes from using details but just enough of them. And it comes from writing and rewriting your headline until you get just the right mix to get your prospect scratching her head, eager to learn more.

The Professional Writers' Alliance
At last, a professional organization that caters to the needs of direct-response industry writers. Find out how membership can change the course of your career. Learn More »

Published: March 9, 2015