Video:


April Great Books Club Selection:
Win Your Case: How to Present, Persuade, and Prevail — Every Place, Every Time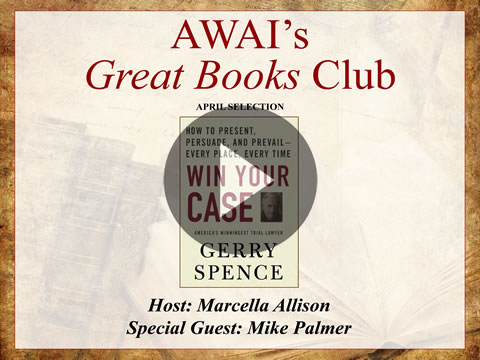 Audio Only (right-click to save) Slides Only
We're thrilled to have Mike Palmer, head copywriter of Stansberry & Associates Investment Research, join us for the next session of AWAI's Great Books Club.
Here's a message from Mike about why he chose this particular book:
One of the most transformative experiences of my copy career was attending Gary Bencivenga's retirement seminar back in 2006.

Gary put into words so many of the things I believed about copy, but wasn't sure were actually true.

One of the most important of these ideas was the importance of proof.

I'd never heard a copywriter talk about proof before. At the time, I was trying to put more proof into my copy than what I'd typically seen, but I didn't know for sure if that made sense or not.

Then Gary talked about entire promotions, built simply around proof elements! It was a revelation.

Most copywriters today still don't get this. They think proof means simply some facts, a few testimonials and quotes from third-party sources.

But the truth is, as Gary explained, if you can become a master of proof — if you can become much better at proof – you can become a superstar copywriter.

Every reader's biggest objection is that they simply don't believe what you are pitching and promising. So you have to learn how to find new, unique and interesting proof elements.

Anyway … this all leads to a book Gary recommended, which I thought would be great for an AWAI Great Books Club discussion.

After all, if it's good enough for Gary Bencivenga, it's certainly good enough for you and me.

The book is called Win Your Case, How to Present, Persuade, and Prevail — Every Place, Every Time, by a trial lawyer named Gerry Spence. This guy has a unique approach for proving his points in the courtroom, and supposedly never lost a trial.
Be sure to go here to order your copy of the book.

The Professional Writers' Alliance
At last, a professional organization that caters to the needs of direct-response industry writers. Find out how membership can change the course of your career. Learn More »

Published: March 27, 2015