11 Tips to Higher Conversions Through Stronger Calls-to-Action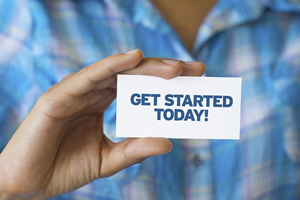 You're in an unfamiliar place.
You've come to what appears to be a dead end. There's no direction or guidance on what you should do next.
In your mind, you're thinking …
"I've got to get out of here."
Where are you? Have you landed in The Twilight Zone?
No. You're safe at home; you've just landed on a web page with no call-to-action (CTA).
Whoever wrote and designed the web page has given you no natural path to follow. Leaving you unsure about what the next step should be to accomplish your goal or solve the problem that brought you to the website in the first place.
A well-crafted CTA is a key component to every successful web page. Which means you should be incorporating CTAs into every web page, blog post, and social media post — and anywhere else you (or your client) publish or market online. A CTA can be presented to your reader in the form of a banner, a button, or some other type of graphic. It can also be just text.
Today I'm going to show you 11 characteristics of an effective call-to-action. (Note: In this article, I will examine copy-related issues not graphical issues such as the size or color of the button, etc. But those are important considerations, too.)
A call-to-action …
Should provide a benefit — Most every CTA will be more powerful if it contains a benefit. You can position things like a free gift, a guarantee, saving money, saving time, increasing productivity, etc., as a benefit. For example, "Call us today to save money on your car insurance" is stronger than "Call us today."

Here are some examples of CTAs that also present a benefit:
"Order today and receive free shipping."

"Call now and ask about our limited time buy-one, get-one-free offer."

"Sign up for our mailing list today and save big with the special member discount coupons we'll send you."

A problem-solution CTA can also be effective: "Have you tried everything to lose weight, but nothing works? Download our free report Nutritious Eating for Life Made Easy and say 'good-bye' to dieting forever."

May overcome an objection — Another effective way to position your CTA is to anticipate and address an objection your reader might have. Some common objections are: they don't have the time to do what you want them to do, it costs too much, they are unfamiliar with the seller, they are unsure it will work (or will work for them). For example, to get prospects to call for a quote on insurance, you could say, "Call now and in less than five minutes you can get a great deal on your insurance." This pre-emptively addresses their concern that, at the moment, they don't have time to place the call.

Must be specific — Similar to good copy, your CTA will be more effective the more specific you make it. For example, "Download your free report" is not specific. "Download your free report, 10 Ways to Make Money Blogging About Something You Love and discover how to earn enough money writing from home to quit your 9-to-5 job in less than six months" is specific.

A simple formula you can use to come up with something specific is to put yourself in your site visitors' place and finish the following sentence: I want to ________________.

May be written in the first person — Studies indicate that if you change from second person (Get your free template) to first person (Get my free template) it will result in a boost in response.

A study, shared by Michael Aagaard of Content Verve, found that changing one word (shifting from second person to first person) increased response by 24.91%. Instead of "Create your account" he went with "Create my account."

Another change he made resulted in a 90% increase in clicks. He changed the text in his graphic from "Start your free 30-day trial" to " Start my free 30-day trial."

Note: Being that websites generally speak to their visitors in the second person, Aagaard thought it might seem a little strange to suddenly shift to first person in the CTA. The results alleviated his concerns.

A test done by Conversion Copywriter Joanna Wiebe involved a landing page from the website Schedulicity.com. Instead of "Try Schedulicity Free" on the CTA button with the toll-free number below, she put "End My Scheduling Hassles" in the button with the words "Choose the easy way to gain & keep clients" above it. It increased response by 24%.

Adding the line "Choose the easy way to gain & keep clients" leads into the next point as it's an example of a "click trigger" — a term coined by Wiebe.

May use click triggers — A click trigger is an extra phrase you put around a button that gives your reader another reason to take the desired action. A click trigger may include a testimonial, review, tweet, a data point, your value proposition, privacy messaging, security messaging, low-price messaging, risk minimization (letting your prospect know what happens after they click), the guarantee, free shipping info, and payment options.

In her article 6 Proven Ways to Boost the Conversion Rates of Your Call-to-Action Buttons, published on the Copyblogger website, author Joanna Wiebe shares an example where she added a click trigger to a green button with the text "Start my free trial" on it.

One CTA version had a quote from a happy user ("As a marketing solution, we love Friendbuy. Every site should use this.") to the right of the button. The other had the words "No credit card needed to get started" and "Customize your invites, offers, and more."

The variation with the quote from the happy user beat the control (which had nothing to the right of the button) by 15%. The second version beat the control by 34%.

Consists of active words — Because you want your reader to take action, it's important to use actionable verbs and phrases. Use words like: Call, Buy, Register, Subscribe, Reserve, Download, and Donate.
Presents the reader with a natural flow — Have you ever landed on a site and then been immediately confronted with a pop-up menu asking you to subscribe to their newsletter? I have and I almost always decline to input my email address. Why? Because they haven't given me time to even look around and get to know them yet. Or to use a popular saying, "They are putting the cart before the horse." You can make that mistake with your CTA too. It's important to place your CTA after your prospect has an opportunity to understand your product and offer.
May add urgency — As with writing a sales letter headline, a sense of urgency can sometimes be difficult to work into a CTA. An offer isn't always seasonal, one time, limited edition, or come with an expiration date. But if it does have some type of limitation, it's a great way to give people the extra push they need to take action. Because FOMO (the Fear of Missing Out) is an extremely powerful motivator.
Should be on every page — The whole purpose of your site is that you want to persuade your target audience to take a particular action. People are used to it and expect it when they land on a website. If you have a CTA on every page, you increase your chances of accomplishing your website goal.
Can sometimes be complemented with a Secondary CTA — It's not necessary to put a secondary CTA on every page, but it's a good idea to at least have some pages that feature a secondary (less prominent) CTA. A secondary CTA provides you with an alternative conversion opportunity. The task it suggests generally requires less time for the person to complete and less commitment. For example, the primary CTA might be to download a free report, whereas the secondary CTA might be to offer a two-minute video on a related topic or to ask your visitor to share your content on Facebook and Twitter.
Should be tested against other variations of it — If your CTA is in the form of a graphic, quite often testing will be related to aspects of the graphic (the size, colors, placement, etc.) but, of course, it also makes sound business sense to test out different copy as well. For example, test whether adding a short testimonial works better than adding copy that features a benefit. Even a 5% increase in conversion can have a huge impact on the overall health and well-being of a company.
Too often, CTAs are treated as an afterthought. But they play a crucial role in getting your site visitors to interact with your client's website. A good CTA can have a dramatic effect on your client's business. Keep these 11 tips in mind and you'll write calls-to-action that convert like crazy.
This article, 11 Tips to Higher Conversions Through Stronger Calls-to-Action, was originally published by Wealthy Web Writer.

The Professional Writers' Alliance
At last, a professional organization that caters to the needs of direct-response industry writers. Find out how membership can change the course of your career. Learn More »

Published: April 22, 2015